MASTERCLASS: How to Write a Memoir – with Allegra Huston

Learn how to write a memoir with Allegra Huston – the author of bestselling memoir Love Child – as she talks about how to draw a compelling narrative out of the rough material of your life.
This masterclass was live on 27 Oct 2021. It is now available on demand to Publishing Talk members.
Watch a 6-minute clip on YouTube – or see the full 90-minute masterclass, and download the PDF handout, as a Publishing Talk member.
Watch Now
This post contains Amazon affiliate links to the books mentioned. See our Affiliate policy for more details. Books by our masterclass speakers are also available in our Bookshop.org bookshop.
How to Write a Memoir – with Allegra Huston
Memoirs are the hot publishing trend. They have become hugely popular in recent years, and frequently top the bestseller charts. While not everyone has a novel in them, everyone has a life story to tell. But how do you turn yours into a compelling narrative?
Where does the story begin and end? What is it actually about? What are the legal issues? And how do you write authentically without worrying about hurting people you love?
Allegra Huston is the author of the bestselling memoir Love Child: A Memoir of Family Lost and Found. She runs an annual 5-day residential workshop in memoir writing. She has also taught writing courses at the University of Oklahoma, the National University of Ireland, Galway, and the UK's prestigious Arvon Foundation. Allegra also runs an online community for creative writers at www.imaginativestorm.com.
This is your chance to learn how to write a memoir from a bestselling memoirist and writing tutor. Benefit from Allegra Huston's expertise in memoir writing in just 90 minutes. Join us for this illuminating masterclass – and learn how to draw a compelling narrative out of the rough material of your life.
What's covered in this materclass:
What memoir is – and what it isn't
Developing a narrative structure – how to choose which aspects of your life story to focus on
How to write authentically – without worrying about what people will think!
Developing your characters on the page (even if they are real people)
Editing your work
Legal and ethical issues to be aware of around memoir writing
Workshop includes:
Valuable insights, practical tips and inspiring advice on how to write a memoir from Allegra Huston
90+ minute video replay of the live masterclass
A one-page PDF download with useful prompts for memoir writing.
About Allegra Huston
Allegra Huston is the author of the memoirLove Child: A Memoir of Family Lost and Found, the novel A Stolen Summer, and many screenplays. She is a contributor to One Last Lunch: A Final Meal with Those Who Meant So Much to Us, which combines memoir and fiction. She has also written two guides for authors: How to Edit and be Edited and, with James Navé, How to Read for an Audience. These are both available through her publishing company Twice 5 Miles – and Publishing Talk members get a 25% discount on the digital editions.
Allegra grew up in London, Ireland, Long Island, Los Angeles, and Mexico – where her father, film director John Huston, lived for the last decades of his life. She read English at Hertford College, Oxford, then spent nine years in publishing in London. First at Chatto & Windus, and then as Editorial Director of Weidenfeld & Nicolson. In her thirty years as an editor she has worked with three Booker Prize winners and two Nobel Prize winners. She also worked with Sir James Goldsmith and Jane Goodall.
Allegra's online community for creative writers, Imaginative Storm, includes a free Prompt of the Week each Saurday via Zoom. See previous ones on the Imaginative Storm YouTube channel. There is also a Facebook page and a forthcoming audio course, Imaginative Storm Writer Training.
About Love Child
'Extraordinary… she is an absolutely outstanding writer, incapable of writing a dull sentence' – Lynn Barber, Daily Telegraph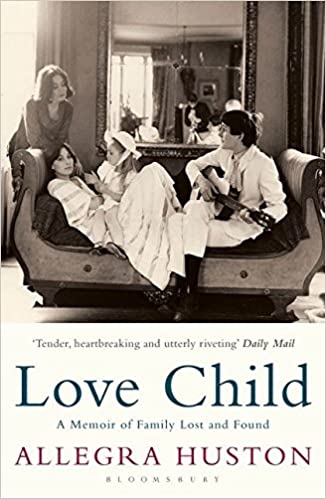 When Allegra Huston was four years old, her mother was killed in a car crash. Soon afterwards, she was introduced to an intimidating man wreathed in cigar smoke – the legendary film director John Huston – with the words, 'This is your father.'
So began an extraordinary odyssey: from the magical Huston estate in Ireland, to the Long Island suburbs, to a hidden paradise in Mexico – and, at the side of her older sister, Anjelica, into the hilltop retreats of Jack Nicholson, Ryan O'Neal and Marlon Brando. Allegra's is the penetrating gaze of an outsider never quite sure if she belongs in this rarefied world and of a motherless child trying to make sense of her famous, far-flung family. Then, at the age of 12, Allegra's precarious sense of self is shattered when she is, once more, introduced to her father – her real one, this time, the British aristocrat and historian John Julius Norwich.
Beautifully written and forensically honest, Love Child is an exploration of the secrets of a fragmented family, and Allegra's compelling attempt to unite those fragments and forge a connection with the mother she never knew.
About the Publishing Talk Masterclasses
Our online masterclasses are talks, interviews, seminars and workshops from successful authors, publishers, agents and industry experts designed to help you fulfil your potential as an author. Find out more on our masterclasses page.
This masterclass is now available on demand to Publishing Talk members.
Watch Now