London Book Fair 2022: Top takeaways for authors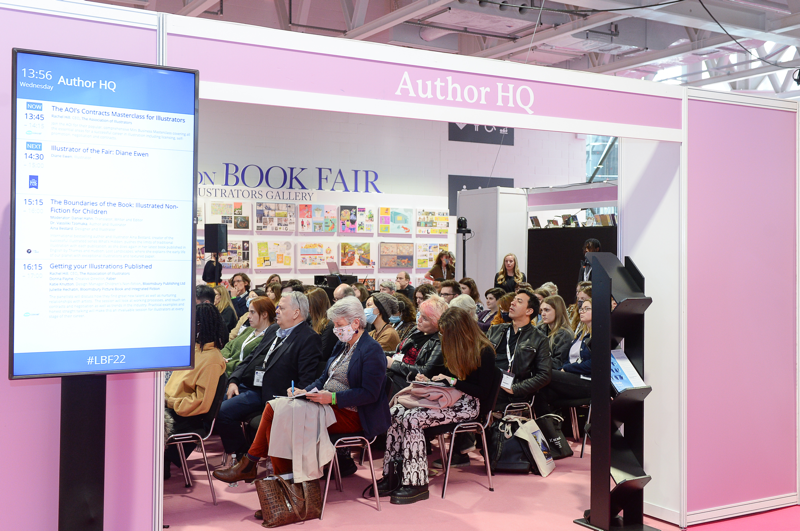 The London Book Fair is back! And so am I. Here are my top takeaways for authors.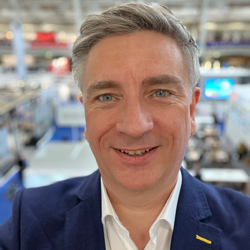 The London Book Fair is back! Did you go? For the first time in three years, one of the biggest events in the book calendar once again took place in real life, at Olympia, last week. I usually go for a day or two, but treated myself to the full three-day experience for the London Book Fair 2022. It seemed rude not to.
And I went to a LOT of sessions. I shall report back on some of them in more detail in due course. For now, this post is a quick overview of some of the key themes and things I learned.
This year's London Book Fair was perfect timing for me as, the week before, I'd quit a full-time content writing job that had kept me occupied since last summer. So I'm back too – and I'm now dividing my time between working for some new publishing clients on digital content and social media projects, and here at Publishing Talk.
Here are my top six takeaways from The London Book Fair 2022:
1) Authors have more options than ever
The first session I went to was on 'the creator economy', chaired by Joanna Penn, founder of The Creative Penn, accompanied by Orna Ross, founder of the Alliance of Independent Authors, and prolific self-published author and publisher Michael Anderle.
This session explored the many ways now available to authors to create work and connect with readers. A key takeaway was that there's no one-size-fits-all model. You can self-publish a single book – or build a publishing empire, like Michael Anderle. Nor is it any longer a straight choice between traditional publishing and self-publishing. Joanna Penn said: "The creator economy is like a choose your own adventure situation – almost no one is doing exactly the same thing."
Orna Ross cautioned against overwhelm, and offered some practical solutions. The important thing is how you think about it. She said: "Don't worry about 'how do I do it?' – you can always, for example, find editors. It's more of a mindset shift into being a creator."
A later panel session focused specifically on the platform most self-published authors use: Kindle Direct Publishing (KDP). It  featured friend of the show Nicola May, alongside fellow author JD Kirk (aka Barry Hutchinson) and the UK head of KDP, Darren Hardy. Both authors talked about how life-changing KDP had been for them – both financially and creatively – and shared insights into their writing process.
2) It's hard to earn a living as an author
While some of these self-publishing success stories might make you think riches await, the hard truth is that most authors don't make much money. An illuminating panel session with three authors who are also management committee members of the Society of Authors reminded us that becoming an author isn't a path to riches – or even to earning a living.
Fantasy author Juliet McKenna, children's author Abie Longstaff and poet Katrina Naomi had useful insights into how authors can maximize their earnings – but started with a reality check. According to the 2018 ALCS author earnings survey, the median annual earning of a professional writer is £10,500 – and author earnings have fallen by 42% in real terms since 2005.
There are, however, things you can do as an author to take control of your career. This was, ultimately, a positive session, which encouraged authors to recognise their power in the industry. Juliet McKenna said: "We may be the plankton – but without us the whales starve".
3) There are no writing rules: just do it your way
How do you actually write a book, though? Which tools should you use? And how on earth do you find the time? An enjoyable session on 'How I Write', chaired by author and podcaster Mark Stay, with authors Stacey Halls and Milly Johnson, and author and screenwriter Tim Sullivan, revealed what we all secretly know about writing: there are no rules.
Everyone finds their own path, works in their own way, to their own schedule, and has their own routines, rituals and favourite tools. You're not doing it wrong. You just need to find what works for you. And if you suffer from imposter syndrome: well, so do all the very successful authors on this panel. Still. In fact, it can get worse after your first book is published and the expectations are greater! But they keep going – and you're in good company.
4) Diversity and inclusion are key to the business
Publishers have paid more attention to diversity and inclusion in recent years. Particularly since the killing of George Floyd, the rise of Black Lives Matter, and the enhanced public awareness of prejudice and unconscious bias. Yet the 'culture wars' are in full swing too. Issues of identity are being politicised and contested – including by some high-profile authors. LGBTQ+ rights are under attack – not least with the UK government's recent double U-turn on the long-promised banning of 'conversion therapy', which will now apply to gay people but not trans people.
Publishers, authors – and, indeed, books – are part of these discussions in society and culture. But are publishers doing enough? Or are they just paying lip service?
A session chaired by Sarah Shaffi looked at 'How publishers can successfully create a culture of diversity and inclusion'. Panelists included Sabah Khan (Simon & Schuster), Nick Coventry (Kobo), Cat Mitchell (Derby University) and Georgina Ugen (HarperCollins UK). The discussion centred on initiatives in publishing companies to attract and include a greater diversity of staff.
Topics included how we address the London-centric nature of UK publishing, improve accessibility for disabled staff, and form networks for under-represented communities. And how do we foster inclusion without burdening those networks with the work of D&I education – effectively turning them into in-house, unpaid consultancies?
There was also discussion of the role books play in guiding public discourse and policy on these issues. Nick Coveney said: "Books are part of the cultural landscape – not just products or objects." He traced a direct line from certain books to recent government decisions on conversion therapy.
5) Mindset and self-belief are important
Diversity, representation and inclusion in publishing doesn't just apply to those who publish books. It's also an important issue for those of us who write them too. Becoming a published author – especially a traditionally published author – can seem daunting. Especially if you don't have any experience of the industry, and feel an 'outsider' or an under-represented writer. It can seem hard to break into what can seem a very white, middle-class, London-centric industry. Where do you even begin if you're a working class writer, for example?
This was a question addressed directly in a session called 'Celebrating Working Class Writing', chaired by The Bookseller's Philip Jones. Panelists included authors Eva Verde, Mahsuda Snaith and Natasha Carthew – who also runs the Working Class Writers Festival. While there has been progress in many areas of representation – and specific publisher programmes to attract under-represented writers – there is still work to be done with underprivileged writers. Topics included representation, visibility, opportunities and finding your own authentic voice.
A key insight from both this session and the 'Diversity and Inclusion in Publishing' session is that a lot of it comes down to mindset and self-belief. If you come from an under-represented background, you may feel that you don't belong in publishing spaces – whether as a publisher or an author. Along with the work of your publishing job, or your writing, this is another hurdle. But you do belong, and your voice deserves to be heard. Writing – and publishing – isn't just for the 'special', rarefied few. Culture is for everyone – and it benefits everyone.
And if you want to self-publish, that minsdet shift into being a creator is an important one. Anyone can self-publish – with no barriers to entry.
5) Sustainability is firmly on the agenda
Sustainability, environmental issues and the climate crisis are key issues of our times. So I was pleased to see a substantial stream on sustainability programmed into this year's Book Fair. The publishing industry uses a lot of paper, after all – will no one think of the trees?
But the definition of 'sustainability' went well beyond green issues, to include diversity, inclusion and accessibility. Sustainability in the sense of all 17 areas of the UN's Sustainable Development Goals (SDGs).
I went to two back-to-back panels – both chaired by Michiel Kolman of Elsevier and the International Publishers Association (IPA). A key insight, from Elsevier's Rachel Martin, was that we can't do it all alone – and supply chains are important for publishers' ability to reduce their carbon footprint.
There was also much mention of the SDG Publishers Compact, which launched at the 2020 Frankfurt Book Fair, in collaboration with the IPA. This is designed to inspire action among publishers, and aims to accelerate progress to achieve the SDGs by 2030.
Another initiative that has recently launched is the Green Book Alliance. This is a joint project between The Book Industry Study Group (BISG), Book Industry Communication (BIC) and BookNet Canada (BNC). It aims to address international supply chain issues through activities including information sharing, joint planning and environmental events.
As well as these big, corporate initiaives, there are ways we can all, as individuals and authors, be more aware of our carbon footprints. We can also educate ourselves on the SDGs. And be more mindful of how our actions and our work can contribute towards achieving them.
6) It's good to be social – though real life events are still tricky to navigate
Finally, it was just good to be back!  For many of us, it was an opportunity to reconnect with people who we hadn't seen in person for three years. It was great to catch up with some previous Publishing Talk speakers – including Nicola May, Liz Fenwick, Mark Stay and Nick Coveney. Writing is a solitary profession – and events that allow authors to meet and learn always feel invigorating.
We've all had to stay in touch online much of the time during the pandemic. 'Social' has meant social media – which has become an even more important way for publishers and authors to connect with readers (and there was a useful session on TikTok).
But it was good to have that real life social connection with publishing people again. The meeting up, the opportunistic bumping into people between sessions – and the drinks parties – brought back a feeling of normality. Yes, I was out of my comfort zone attending a large event for the first time since the beforetimes. And the Book Fair has received some criticism for a wave of COVID cases that followed. But it's a difficult balance.
The Fair was strict about COVID passes on entry and the venue was well-ventilated. It advised mask wearing at all times (though, by my reckoning, less than 5% of people actually did). It felt as busy as usual – which I wasn't necessarily expecting. I suspect that's partly because the footprint of the exhibition was a little smaller than usual, with some of the usual exhibitors and international visitors staying away. Most sessions were recorded and could be watched online too – and this hybrid approach seems the way forward for these events.
Overall, it felt like the Book Fair was back. And long may it continue. See you there next year?