Sustainability is about more than the environment. But planting trees is a good start. 
It's easy to feel powerless in the face of the climate emergency. But we can all do something. At Publishing Talk, we're committed to sustainability and to acting in an environmentally-friendly way. We want to do this in a pragmatic way that's makes sense for us as a small business with a large community in a sector concerned with writing and publishing.
The publishing industry uses a lot of paper – so planting trees seems one obvious way for us to make a tangible, measurable contribution to sustainability. Here's what we're doing and why, how it fits into broader sustainability goals – and how you can get involved.
---
Our commitment to sustainability
Our core purpose at Publishing Talk is to educate new and emerging authors so you can navigate the publishing industry successfully to fulfil your potential as a writer. We aim to do this in an inclusive and sustainable way. We want to support you as you grow – and to do our bit to support the planet.
We work with authors and publishers. Both are an essential part of our community. There are a lot of sustainability initiatives, commitments and discussions in publishing companies – such as the SDG Publishers Compact and Publishing Declares, the Publishers Association's Climate Action Pledge. But there's also a lot authors can do to contribute to sustainability. We all have an interest in and a responsibility to sustainability in the publishing industry. And we all have a stake in the future of our planet.
Our commitment to sustainability focuses on the things we can realistically do as a small business with a large community:
Community. Our Publishing Talk community consists of our members and masterclass attendees. We will plant trees on behalf of our community, via our partnership with Ecologi.
Content. Our community also includes readers of the Publishing Talk blog and newsletter, our Substack newsletter The Author Mindset, and our social media posts. We will use our content platform to help raise awareness of sustainability issues, and provide knowledge and insights that authors and publishers can act on. We've also added a sustainability shelf to the Publishing Talk Bookshop – which also helps support independent bookshops in the UK.
Carbon footprint. As a microbusiness, we tread lightly and have a low carbon footprint. But we want to keep it that way, and be a climate positive business. We will take steps to better understand and minimize our impact, and offset our carbon emissions.
---
The environmental impact of publishing
Our purpose is guided by our four core values: respect, education, environment and diversity. Our commitment to sustainability therefore aligns with several of the UN's Sustainable Development Goals (SDGs).
One of the first things many of us think of, when it comes to sustainable publishing and our environmental impact, is trees. The publishing industry fells billions of trees every year – with a single tree producing about 25 books. Ebooks have come a long way in the last 15 years – and the popularity of audiobooks has rocketed. But we haven't abandoned paper books in the way we've cast aside physical vinyl, tapes and CDs for digitally streamed music. In fact, we're publishing, printing and reading more print books than ever. Great for publishers and authors – not necessarily so great for the environment.
Because the unit cost of printing a book drops dramatically the more you print, there's also a perverse economy of massive print runs. This is especially an issue in trade (fiction) publishing. Print on demand (POD) technology means it's possible to print just one book, to order. However, while this might work for a niche academic monograph, it wouldn't make economic sense for a bestselling novel.
---
Our sustainability journey begins with trees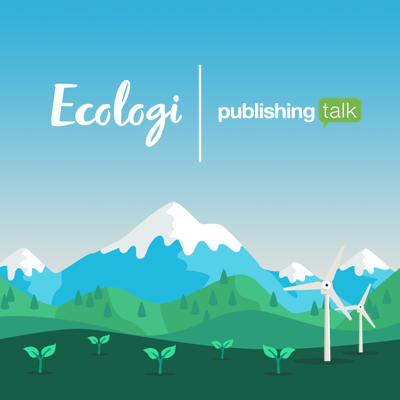 For all these reasons, we're drawn to the idea of planting trees, to help mitigate the environmental impact of publishing.
Planting trees is also one of the best tools to tackle the climate crisis and keep our temperatures from rising above 1.5C. And trees are vital in preventing ecological collapse.
We're proud to be working with environmental organization Ecologi, which funds tree planting initiatives around the world. To date (April 2023), together with their reforestation partners, Ecologi has funded over 60 million trees.
We hope you'll join us on our tree planting journey. Together we can plant a forest!
Visit the Publishing Talk forest