Eco publishing: 8 ways authors can contribute to sustainability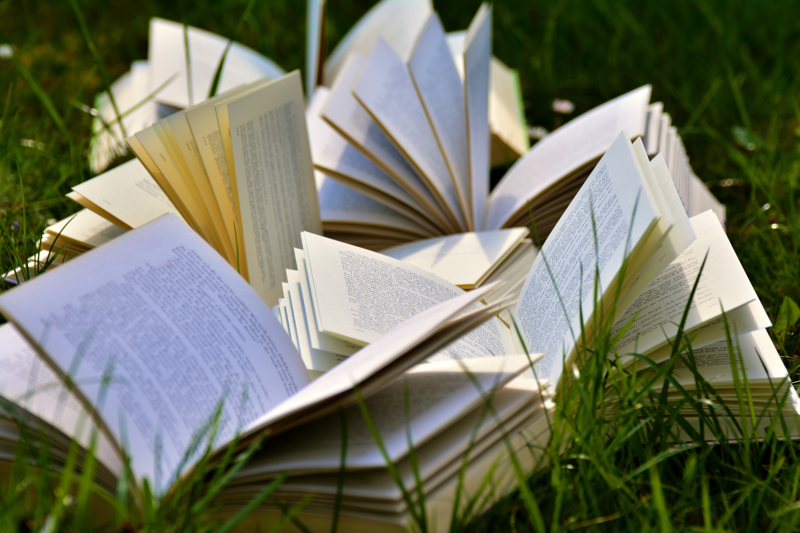 Sustainability is firmly on the agenda. But how can authors contribute to greening up the publishing industry?
Earth Day is 22 April each year. A good time to reflect on 'eco publishing' – something that's now, fortunately, firmly on the industry's agenda. I went to a couple of sessions on sustainability at this year's London Book Fair. There was plenty of discussion of printing, transportation, packaging and supply chains – all important for finding ways to reduce the industry's environmental impact. But these are all corporate concerns, surely? How can authors contribute to sustainability in the publishing industry? Well, in lots of ways. Here's how you can make a difference.
Are books sustainable?
One of the first things many of us think of, when it comes to publishing and the environment, is trees. The publishing industry fells billions of trees every year – with a single tree producing about 25 books. In a 2021 column in The Independent, environmental campaigner Donnachadh McCarthy said: "My dream is that within five years all books are either ebooks or printed on 100% post-consumer recycled paper." But is this realistic?
Yes, ebooks have come a long way in the last 15 years – and the popularity of audiobooks has rocketed. But we haven't abandoned paper books in the way we've cast aside physical vinyl, tapes and CDs for digitally streamed music. In fact, we're publishing, printing and reading more print books than ever. So the solution might be to use more recycled paper rather than aspire to 100% digital.
Sustainable book printing
Because the unit cost of printing a book drops dramatically the more you print, there's also a perverse economy of massive print runs. This is especially an issue in trade (fiction) publishing. Yet print on demand (POD) technology exists. It is possible to print just one book, to order.
However, while POD might work for a niche academic monograph, it wouldn't make economic sense for a bestselling novel. Trouble is, fiction publishing has always been more hit and miss than academic publishing – with more misses than hits. You don't know in advance if a book is going to hit the bestseller lists. But you do know the size of an academic market in advance – particularly for textbooks, where student numbers are known.
The COVID-19 pandemic has been a challenge for many international supply chains – and this has made some publishers rethink where they get their books printed. Printing on the other side of the world was, at one time, a cheap option – certainly when I was a publisher. But it's less so now – and the environmental cost of vast print runs being shipped back soon mounts up.
There's an assumption that digital books have a lower impact. And this seems self-evidently the case. But there's little actual data on this as yet. E-readers are not carbon neutral. There's an environmental cost to making them (though many readers read ebooks on a device they already own, such as their phone). And they use power. Further research is needed – but these are things that the industry is increasingly trying to address.
How sustainable is the publishing industry?
Yet it's not just paper. It's plastic packaging. There's transportation: shipping books and commuting staff. And there's heating office buildings. As with most industries, there's a whole shopping list of carbon to offset, pollution to mitigate and resources to conserve. And some top-level industry coordination and resources are required to address this.
At a session on 'Sustainability in the Publishing Industry' at this year's London Book Fair, Stephen Lottinga, Chair of the Publishers Association, set out three of the things his organisation was doing:
Setting some ambitions and declarations for sustainability targets
Creating practical tools to understand impact publishing businesses have – including launching a carbon calculator for the publishing industry, including a materials index
Celebrating best practice – those publishers who are doing it well.
He stressed that these were all concerns for consumers too – so there is a commercial imperative for publishers to be greener businesses too.
There are other industry-wide initiatives too, which broaden 'sustainability' out to the UN's 17 Sustainable Development Goals (SDGs). The SDG Publishers Compact launched at the 2020 Frankfurt Book Fair, in collaboration with the International Publishers Association (IPA). This is designed to inspire action among publishers, and aims to accelerate progress to achieve SDGs by 2030.
Another initiative that has recently launched is the Green Book Alliance. This is a joint project between The Book Industry Study Group (BISG), Book Industry Communication (BIC) and BookNet Canada (BNC). It aims to address international supply chain issues through activities including information sharing, joint planning and environmental events.
Signing up to green initiatives is something publishers increasingly want to do – and want to be seen to do. It can help them stand out from the crowd – and it's something many of their readers – and authors – want to see.
8 things authors can do to contribute to sustainability
But these are all concerns for publishing companies, surely – what can we do as authors? Quite a lot, actually. The choices we make as authors can make a difference to the ecological impact of publishing. Here are some things we can do:
1) Question your publisher. How green is your (prospective) publisher? You may be so grateful to be offered a publishing deal, you'll accept any contract with any publisher. And your options may, indeed, be limited if there's not a bidding war for your début blockbuster. But authors have more power in the industry than we often realise – especially as you become more established. Ask your publisher about their commitment to sustainability. Here are a few questions you could ask:
Are you signed up to the SDG Publishers Compact? Or a member of any other environmental initiatives?
Do you print on recycled paper? How is your paper sourced?
Do you limit your initial print runs and/or use POD to reduce waste?
What steps are you taking to reduce your carbon footprint?
How are you addressing the environmental impact of your supply chain?
Do you have a carbon offsetting programme?
If you're already a published author, you can ask your publisher these questions too.
2) Insist on a 'recycled paper' clause. Donnachadh McCarthy did this when he was asked to write his first book, in 2004, by a small publishing house. He signed the contract only after they had included a clause guaranteeing the book was on 100%recycled paper.
3) Consider small, indie presses too. Many are doing great work in the sustainability space, or make it a focus of their business practices as a way to differentiate themselves. They also tend to have lower initial print runs. And it doesn't mean your book won't become a runaway bestseller or put forward for prizes. Although your choice of publisher will be based on many factors, make sustainability one of them.
4) Be aware of the environmental impact of your choices as an author. If you're choosing a publisher, you can check out their green credentials. You may be able to do this when choosing an agent too (is there such a thing as a net zero agent? Why not? It could be a selling point!) But there are lots of other choices authors make every day in the course of our work. We read a lot too – perhaps for research on our latest work in progress. Do you always need a print copy? Can you read an ebook or listen to an audiobook instead?
5) Think digital-first for self-publishing. If you're an indie author, you're a publisher as well as a writer. So what are your environmental policies as a self-publisher? One obvious starting point is to self-publish in digital only – at least to start with. This is what many self-publishers do anyway, since it's the easiest option to upload your book to, say, Kindle Direct Publishing (KDP). And if you do self-publish in print later, you're more likely to use a print on demand (POD) service anyway – rather than warehouse boxes and boxes of books in your tiny flat then try to sell them! Though I do know indie authors who did that, before such technology was available…
6) Support libraries. Libraries are a source of social and environmental good. Support your local library, make sure your book is available there, and include libraries in your book tours and events. Getting your book into libraries and doing library events also helps build valuable word of mouth.
7) Green up your writing. Even if your genre isn't eco-fiction, nature writing or non-fiction on sustainability, there may be a way to include a nod to environmentalism in your writing. In a natural, unforced way, of course. When creating characters, think about their attitudes to sustainability, or their green (or otherwise) behaviours. Even something as simple as the way you create a setting for your characters can help give your reader an appreciation of the natural world.
8) Educate yourself. Read up on environmental and sustainability issues too. The Independent's list of 10 best books to help you live more sustainably is a good starting point.
There are lots of small ways we can all become more aware of our environmental impact, and contribute to greater sustainability in our lives and work. And that includes our work as authors. Together, we can make a positive impact on sustainability in publishing.