The Right Time to Write: is writing at NaNoWriMo speed really a good thing?
Did you do NaNoWriMo? Did you finish your 50,000-word draft? Don't worry if not. Making your words count is more important than your word count, says Linda Gillard.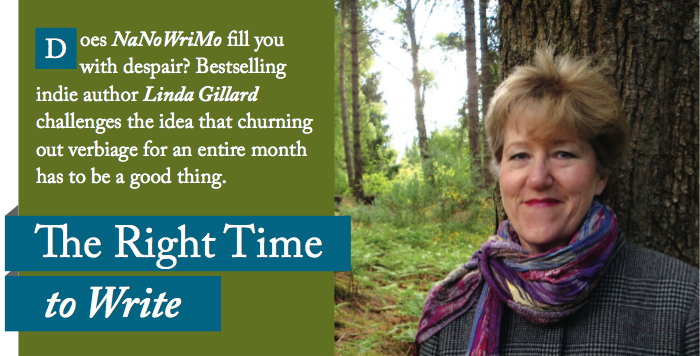 This article first appeared in our NaNoWriMo-themed issue 3 of Publishing Talk Magazine (Nov-Dec 2012) – also available as a Kindle edition. An edited version  first appeared on this site on 28 Nov 2012.
Do you have writer's cramp yet? Or typist's tremor? Have you entered the annual November writing marathon that is NaNoWriMo (National Novel Writing Month)? If you did, did you finish, or did you give up exhausted halfway through the month?
I'm a professional writer with six published novels on my CV, so I'm not your typical WriMo-er but, encouraged by the buzz and some enthusiastic writing friends, I attempted NaNoWriMo for the first (and almost certainly last) time in 2010.
Finding time to write a novel isn't nearly as difficult as finding time to think a novel.
It was an illuminating experience and taught me a lot about how I write. I gave up halfway through the month with a word count of 26,000. I didn't abandon my novel, I simply stopped beating myself up about speed and resumed my normal writing pace and methods. I'd discovered that NaNoWriMo was not for me. I eventually finished that novel and, like most of my books, it took me a bit more than a year to write.
I made a good start even though I'd not done lot of planning. (I don't plan my novels very much anyway, so this wasn't raising the bar for me.) Producing quantities of words isn't difficult for me, but writing at NaNo speed confirmed for me what I've always thought about novel-writing: finding time to write a novel isn't nearly as difficult as finding time to think a novel.
And that's what was missing from my NaNo experience. Time to think. I wasn't day-dreaming, hypothesizing, re-thinking or revising – all those processes that, for me, are what novel-writing is about. I was just producing an impressive daily word count.
My fictional set-up was promising. The writing was competent. Then at 18,000 words things started to get tough. Artistic decisions had to be made and I wanted to slow down and reflect on what I'd produced so far. I knew I needed to get to know my characters better. In short, I wanted my novel-in-progress to develop and mature. But that's not what NaNoWriMo is about. It's about "getting all your ideas down" – that and the big confidence boost of actually finishing a draft.
It's my view that anyone with a love of writing, a vivid imagination, some spare time and a lot of determination can produce a quarter of a novel. Many novels – even those begun by seasoned professionals – are abandoned around the 25,000-word mark. Writers hit a wall. I think it's because by then, we've finished setting up, we've created our characters and their environment. What comes next is the hard part: the development and careful structuring of the story so it moves towards the necessary climaxes and resolution. I believe writers only move beyond this 25,000-word point if they really, really want to tell their story (or if they're contracted to tell it and have a deadline to meet).
It worries me the way NaNo has 'failure' built in for so many participants.
The Canadian novelist Robertson Davies said, 'There is no point in sitting down to write a book unless you feel that you must write that book, or else go mad, or die.' I don't think I'd go so far as to say there's no point, but I will say, if you aren't being paid to write, you're unlikely to finish your novel unless you feel this way.
NaNoWriMo is brilliant as an inspiring, sociable and creative exercise. It's great for producing a very rough draft of the novel you've been brewing up for months or even years. But it worries me the way NaNo has 'failure' built in for so many participants – and not just failure to achieve the 50,000 word count. During NaNo month in 2010 I read many complaints on Facebook from writers suffering RSI-related pain, yet their well-meaning fellow participants encouraged them to push on through the pain, thereby risking the possibility of serious damage to the delicate tendons of the hand. This isn't writing, it's masochism! Producing a novel is a test of stamina. It shouldn't be an endurance test.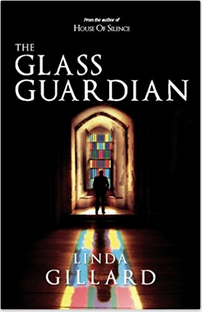 I question the wisdom of producing fiction in a state of caffeine-fuelled exhaustion and physical pain. It might be possible to write like this, but it's unlikely to produce your best work. It certainly didn't produce mine. I still have reservations about the early chapters of my NaNo novel, The Glass Guardian, even though it's sold well on Kindle and has, as I write, 27 four- and five-star reviews on Amazon UK. It's hard for me to assess my own work, but if anyone levelled a charge of superficiality at that novel (and so far no one has), I would know what they meant. That novel doesn't feel as "lived in" as all my others. I don't know the characters as intimately as I do the characters in other books. This might have something to do with genre issues (The Glass Guardian was my first attempt to write a paranormal) but I think it has rather more to do with generating 26,000 words in 15 days.
There are reasons why professional novelists don't produce a draft of a book in a month.
I'm not trying to knock NaNoWriMo, I'm just making a plea for balance. I'd like to challenge the idea that churning out verbiage for an entire month has to be a good thing. I'd like to extol the virtues of a more thoughtful approach, especially to those who withdrew defeated from their NaNo marathon. To them I'd like to say, there are reasons why professional novelists don't produce a draft of a book in a month.
Quick thinking can lead to the quick-fix and the quick-fix can lead to predictability, stereotype and cliché.
When I was struggling to stay in the NaNo game, I wearied of people claiming on Facebook that 'everything can be fixed once you have a draft'. I don't believe it can. It is important to get all your ideas down on paper. (Prolific Nora Roberts said, 'I can fix a bad page. I can't fix a blank page.') Drafts are there to be edited into something better. But what worries me about NaNoWriMo is not the fast writing it requires, but the fast thinking, the decision-making that story-telling requires. Quick thinking can lead to the quick-fix and the quick-fix can lead to predictability, stereotype and cliché.
When my children were young and asked to watch films and TV programmes that I thought might frighten them, I refused and warned them that once you've seen something, you can never un-see it (which they discovered to their cost when they had months of nightmares inspired by Return to Oz.) I believe it can be the same with writing. You can of course un-write stuff, but you can't un-think it or un-hear it. Writing is decision-making, word by painstaking word. Having made a creative decision, it's difficult to get back to that state of open-mindedness where anything was possible. Anyone who's ever been asked by their editor for substantial re-writes will confirm how tough it is to re-think a plot or characters you've lived with for months or even years.
If you're concerned about the quality of your fiction and not just the quantity, I think there's a lot to be said for remaining alert, receptive and poised for that moment of inspiration, which is the right time to write. In my opinion, that's the really hard part about novel-writing: the waiting. Waiting until you're ready to write. Knowing when you're ready.
If you didn't finish NaNoWriMo this year, don't be too despondent and please don't think you 'failed'. Maybe you weren't ready to write. Writing is the end product of a process of thinking, feeling, deciding. Maybe you had more thinking to do. Maybe you just aren't a fast writer. That doesn't mean you're not good. I'm a hard-working professional and I failed to produce 50,000 words in thirty days. Or rather, I decided that to do so would be counter-creative, because for me it's not about the word count, it's about how much my words count.
UPDATE: Linda Gillard's latest novel The Trysting Tree (2016) is available now.
Save
Save
Save