Publishing Talk Magazine 3 – NaNoWriMo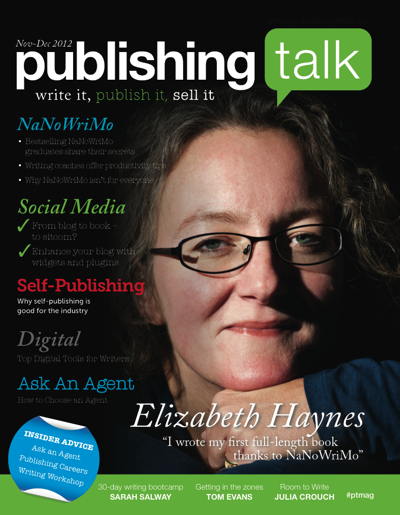 Can you write a novel in a month? NaNoWriMo graduates share their tips in issue 3.
Issue 3 is available as a print-on-demand magazine from MagCloud, and a text-only Kindle edition from Amazon.com and Amazon.co.uk.
Many of the articles are also available as blog posts on this site.
Whether you're doing NaNoWriMo this year, saving your writing marathon for another month – or against the whole idea – there's something for you in this issue.
We have two bestselling authors who used NaNoWriMo: Elizabeth Haynes and Julia Crouch; plus bestselling indie author Linda Gillard, who challenges the idea that churning out verbiage for an entire month has to be a good thing. Writing coaches Tom Evans and Sarah Salway are here to boost your productivity, Jon Reed looks at some digital tools to help you write, Suzanne Collier offers careers advice, and Kirsty McLachlan helps you decide which sort of agent is right for you.
On the social media front, we have Emily Benet's Social Media Success Story, and there's a step-by-step tutorial on adding widgets and plugins to your WordPress blog.
Back issues
What we're talking about in this issue