Are internships the way to get into publishing?
Danuta Kean is deputy director of the Creative Enterprise Centre at Brunel University, where she teaches feature writing and publishing. She is also books editor at Mslexia. Follow her on Twitter at @Danoosha.
Publishing's reliance on unpaid internships is bad for business, argues Danuta Kean.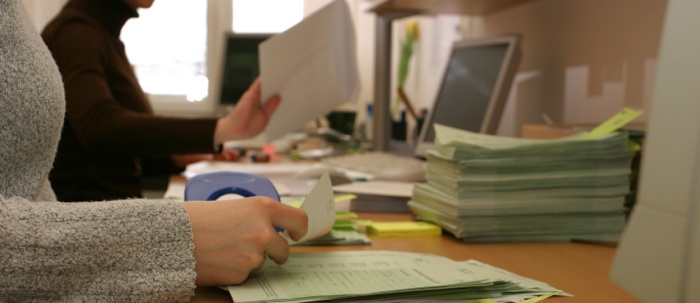 Temps. Remember them? They used to be the people who came in to cover the donkey work jobs no one wanted or no one had time to do. They also used to be the route into publishing for the vast majority – especially women.
Not any more. Now budding publishers are expected to work free in long unpaid internships.
It is the norm across the media. It is also illegal and a practice that means the creative industries are sourcing new recruits from an increasingly small pool of talent, which is not just bad for interns, but dangerous for an industry desperate to appeal to the widest possible demographic.
It is why I spoke up against them on the How to Get into Publishing panel organised by the Society of Young Publishers at the London Book Fair last week. I felt depressed that other panelists took it as read that unpaid work experience is an acceptable method of recruiting new talent – and running a 21st century industry.
It is not.
On the subject of legality, under the UK's National Minimum Wage Act 1998 unpaid internships are only acceptable if they are part of an accredited course organised through a university or college – such as the three week stints my students undertake at the end of the Creative Writing MA at Brunel University.
There are two other exceptions: voluntary work for a registered charity and shadowing. I know times are tough, but few publishers count as charities. And shadowing is just that: following someone and watching them do the work. As soon as you are told you have to be in by certain hours and undertake specific tasks you are deemed to have a contract. If you have that, you should, by law be paid. It is why employment websites will not advertise work experience.
This is an issue for employers to deal with, not internees. It is also an issue about which the SYP should speak out.
Employers should be concerned, because the government has promised a crack down on the practice – already the PR industry is reeling after a shocking exposé on the practice by Panorama.
The blind eye turned to unpaid internships exists in Westminster – it is now a standard route for entry into politics too. It reflects a system remarkably efficient at keeping youth unemployment – already shockingly high – down. If the government wants to crack down on unpaid internships it also needs to offer incentives to profit squeezed companies to pay 'workies'.
The incentives should come in two forms: a reduction in red tape surrounding internships offered by educational institutions; and sharing the cost of longer internships in recognition of the fact that employers subsidise the state by keeping internees off benefits.
But the most important reason for challenging the practice of is its impact on the publishing gene pool. The people who can afford to work for months on end for free are those with parents who can afford to subsidise them. It automatically discriminates in favour of those from a professional middle class background – the majority of which are white. It is hardly reflective of the population as a whole.
Eight years ago I wrote a report for the Arts Council's decibel project called In Full Colour. It was published by The Bookseller and very well received, despite shocking revelations about the appalling represention of black and minority ethnic people within the industry and the casual racism experienced by some BME people working in the industry. Unpaid internships were pinpointed as a chief barrier to entry for those outside the middle class loop.
At the time, it was widely recognised that publishing needed to recruit more widely not to please some kind of altruistic liberal ideology, but because publishing needs to grow the book market. That means recruiting people who understand unexploited markets from the inside, who recognise niches because they grew up aware of them.
If you don't think that is a problem, I would point you to the many SYP members who contacted me after the seminar. Several said the reason they left the industry was that after two unpaid internships with no job at the end they could no longer afford stay in it. They had been snapped up elsewhere. That is not their loss. It is ours.