How to become a children's book illustrator – 7 secrets for success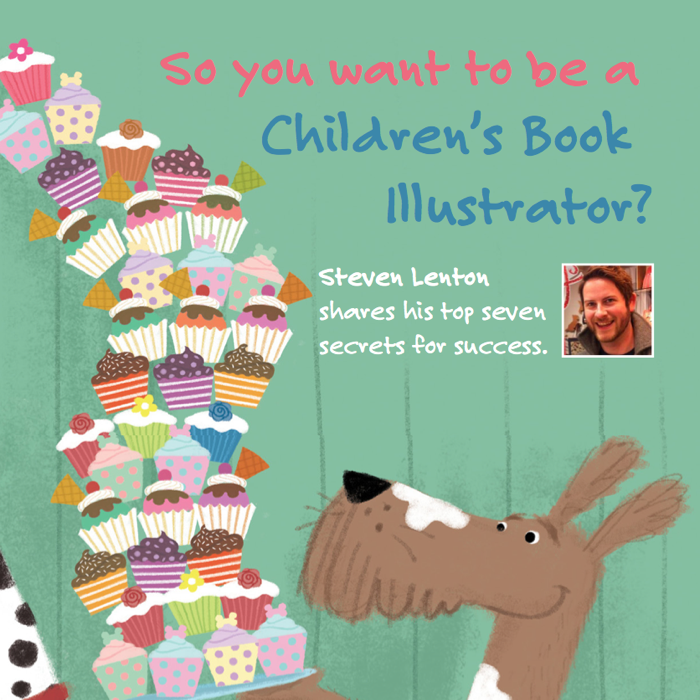 Bestselling children's book illustrator and author Steven Lenton shares his top seven secrets for success as a children's book illustrator.
This article first appeared in issue 6 of Publishing Talk Magazine.
Reading Time: 4 minutes
I'm relatively new to the children's book industry, but in my short time illustrating picture books I have learned some practical and hopefully useful dos and don'ts that I would like to share with you.
1. Do get an agent
You may be tempted to go it alone to get the maximum amount of pennies possible on signing a book deal. My advice is to find an agent that can fine-tooth comb contracts, understand you as an artist and treat you to the occasional cream cake.  My agent has helped me to promote my portfolio, maximise my fee and very importantly offered a wealth of encouragement and advice about the industry. It's important to have someone who can deal with the tricky bits and pieces you don't know how to, allowing you to concentrate on being creative and cakey.
2. Don't be too precious
The publishing industry, lovely as it is, has to be based on strong book sales. Therefore if you have an idea for a book, be it in whatever form, you must expect a publisher to tweak, edit and often radically change some aspects of your project if it is to be a success. Being open-minded to these changes will help your idea blossom into a best seller. Some books will need few if any alterations, but most of the best books go through numerous drafts. It is possible to maintain your integrity during this process by relaxing a little and by listening to what your editor/designer has to say, digesting it and then discussing it. Over cake.
3. Do continually develop your style
Everybody wants to have a unique, recognizable style and this is essential. Look at classic and contemporary illustrators and observe similarities between your work and others, gain clues on colour, composition and layout, all the while developing the way you draw dogs, noses, elephants, cars, totem poles, whatever it is that you are interested in designing. Play around with mediums (not of the Mystic Meg variety!) and find a style and way of working that you are comfortable with. If you persevere you WILL find your style – it just takes a lot of research and practice.
4. Don't dismiss a rhyming text
There's some confusion amongst aspiring authors and illustrators as to whether a rhyming text is viable. Some recent talks I have been to touching on the matter have left audiences believing that a rhyming text is a complete no-no.  This is NOT the case. Interestingly, all the texts bar one that have been sent to me by various publishers have ALL been rhyming texts.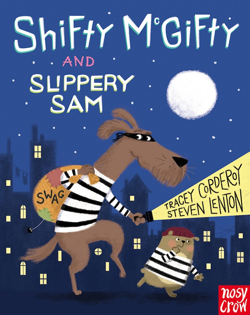 My first book, Shifty McGifty and Slippery Sam, with a rhyming text by Tracey Corderoy, was sent to me by publisher Nosy Crow and has sold phenomenally well in the UK, been translated into two other languages, spawning two sequels and numerous sell-out events including the Hay and Edinburgh Festivals.
My first author/illustrator title Princess Daisy and the Dragon and the Nincompoop Knights was originally written in prose but we felt that it would be a stronger, funnier book if it rhymed. So, a few re-writes later (keeping the aforementioned open mind!), and a fun, hopefully popular new fairytale has been born. If your book is stronger in rhyme, as long as it has good scansion (flows beautifully) you could be on to a winner!
5. Do dip your toe into Twitter
I never understood Twitter until I started researching and promoting my work. Find your 'Twitter tone' and engage your potential audience with anecdotes, fun facts, quotations, sketchbook work, anything that will intrigue people and get them interested in what you're about and what you are striving to create.  There are a number of publishers who keep an eye on Twitter for the next big illustrator so log in and have fun with it. Just don't stalk Paul Hollywood, OK?
6. Don't think you have to be an expert at everything
When I entered the industry I panicked because I'm not the best at typography and hand lettering, so how on earth was I going to design an entire book?  This panic was unfounded because as soon as I signed the contract I was surrounded by a helpful team of editors, designers and publicists who all want to make sure that I was happy, supported and comfortable with all decisions and practicalities that went into the development, execution and marketing of my book. Everyone is on your side and everyone wants to create the best book that you can possible make.  Don't be afraid to ask for help and opinion along the way. Over cake.
7. Most importantly – DO keep a positive outlook
Despite numerous rejection letters and emails I stuck to my guns and kept a positive view on my ambition.  When I sent my beautifully designed gift box full of pom-pom dogs, artwork and dummies to Walker Books I convinced myself that they would snap me up then and there. They didn't, of course, and I was left feeling rather flat – all that effort gone to waste!  But I dusted myself off and developed more ideas that eventually lead to my first contract.
There have been times when my confidence has taken a nose-dive and times when I have been frustrated at the often slow pace of the industry as a whole. But keep pushing yourself, keep your humour, and keep drawing. Publishers like to have meetings with friendly, jolly people with a wealth of sketchbooks and ideas, so get in touch with that agent, focus that folio and get out there – it really is worth it. Keep envisaging your book on a shelf in Waterstones. The feeling you get when you pick it up for the first time is an incomparable thrill and all the heartache and self-doubt will swiftly be forgotten… until you get working on book two!
Save