10 ways to use LinkedIn to find a publishing job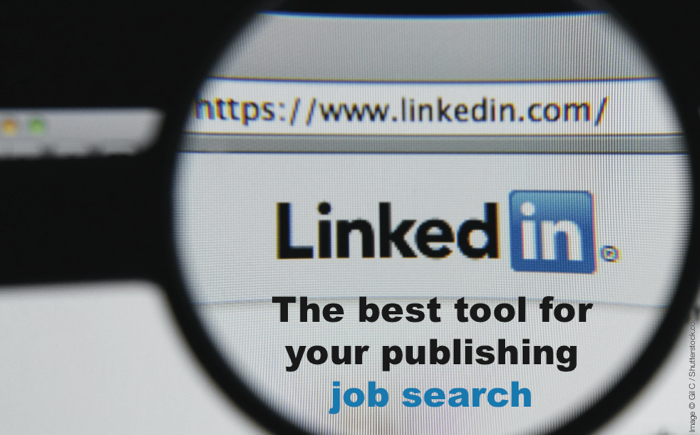 LinkedIn is one of the most powerful tools you can use for your publishing job search. Suzanne Collier of bookcareers.com shares her top ten tips for using it effectively.
This article first appeared in issue 6 of Publishing Talk Magazine.
Reading Time: 6 minutes
LinkedIn is one the most powerful ways that you can find a new job, locate vacancies or headhunt your next employer (or be headhunted yourself). With over 500 million users (April 2017), LinkedIn compares the whole population of the European Union. To have all those potential contacts at your fingertips, you'll quickly see how it is a valuable for any jobseeker.
But, as with every social network there are golden rules and pitfalls. Here are my guidelines for making LinkedIn the best part of your publishing job search.
1. Switch off updates
If you are already on LinkedIn and want to try several new things while updating your profile, switch off 'updates' so your network and current boss don't see what you are up to until you have finished making changes. Then , when you are ready, switch updates back on otherwise every time you change your job title or add skills they will get an email 'Congratulate… on their new job'. Switch updates on and off by going to:
Account & Settings > Privacy Settings > Turn on or off broadcasts – and uncheck the box.
2. Always use your real name and a photograph
It is a good idea to use the same or similar photo as Twitter, if it is a genuine photograph of yourself. This is because that in the rules of marketing there are seven 'touches' before you get a sale, and as you are now a brand in yourself you need to create these 'touches' within your job search.
If you are apprehensive about putting personal information on the internet, you don't need to put your whole CV/resumé or career history onto LinkedIn – you can be selective and only list the roles and skills that you feel are important to get you your next role. You might not add in the name of your secondary school for instance. There is a lot of information about you already accessible on the internet; far better that you control your information and your brand, than let others do so for you.
3. Choose your job title carefully
Write a job title which closely matches the role or work you want to do, not the role you may already have. This is because Human Resources and Head Hunters search for people by Job Title. When I looked through LinkedIn I see nothing but 'Publishing Professionals'. What is a Publishing Professional? How many Human Resources Managers do you think are searching for candidates using the job title 'Publishing Professional'? I can tell you now, zero.
So choose a job title that is relevant to the work you are looking for or which closely matches the new role that you seek. Editor, Editorial Manager, Editorial Director, Marketing and Editorial Freelance, Marketing Executive/Manager. Your job title on Linked In is the best way to attract the right people to your profile. For instance, since I included the words 'Career Guidance Strategist' in my personal LinkedIn Profile, I have had approaches from colleges and universities; when I added in the words Commissioning Editor, I had approaches from Publishers. You don't need to stick to only one job title; you can have several words and phrases up to around 120 characters.
4. Keep your profile relevant and add in your skills
One of LinkedIn's recent functions is 'skills' and you should list all the skills that you have and that you want to use in a new role.   The skills option seems completely flooded with unquantified skills at the moment such as 'publishing' – which could mean anything. How the skills option develops or utilised or if it brings any real benefits has yet to be seen – it could be a function to let others 'touch' your profile and so you 'touch' theirs. Always make it a personal policy to only endorse others who you personally know and are willing to endorse.
5. Ask others for recommendations
Recommendations are testimonials or references written by others about good work or projects you have done. You do not have to recommend in return, although some of your contacts may expect it. A recommendation gives your profile weight – as it shows that others are willing to commit to public a testimonial or reference saying that you have been good at your job. Don't be afraid to ask others for recommendations, and equally don't be upset if they refuse or ignore your request.
6. Connect with other people you know
One of the most frequent questions I am asked is 'who should I connect with?' Start with current and former colleagues, but again only connect with people that you want to. Don't feel obliged to accept every connection request and don't connect with people that you don't know.
Before you connect with someone, read their profile and under 'Additional Info' there may be an item which says 'Advice for connecting with…' see if there are any requirements that they have asked for when connecting – for instance, my profile says:
"Please state the reason for requesting contact or indicate how I know you in your 'Invitation to Connect' request. If you do not use your real name on LinkedIn, please don't expect me to connect. Don't forget there is a bookcareers.com group on LinkedIn which you are welcome to join".
It is really important to connect to only those who you know or are really happy to connect to, because if you have not 'hidden' your connections, they can then see who you are connected to, and other people may take these as endorsements. It also means that in LinkedIn searches they appear connected to you, and therefore others may feel they need to connect with them too.
7. Personalize your messages
Always send a personal non-standard connection request unless you have already agreed with someone to connect on LinkedIn (although you might want to remind them of your conversation). For instance, in the UK LinkedIn standard messages simply state: "I'd like to add you to my professional network on LinkedIn."
Where it would be much better to send: "Further to our conversation (or email or meeting or interview) I would like to connect with you on LinkedIn".
If you want to connect with people that you don't know personally a more detailed message is best. For example if you are looking for an editorial role and you want to connect with a publishing recruitment consultant, you might want to send a message such as: "I am currently looking for a role within Trade Editorial, I've registered on your website but would now personally like to connect with you on LinkedIn".
Sending a personal message with a connection request should make all the difference, but don't be surprised if people don't connect with you or it takes them weeks before they accept your connection request; some people only add connections on a periodic basis.
8. Join relevant LinkedIn Groups
There are thousands of publishing related groups on LinkedIn – including Publishing Talk – and all groups have a page for job vacancies (unless the group owner has disabled this function). Search for the groups which are most relevant to you but, if you are new to LinkedIn, make sure you have at least two connections, otherwise you will be flagged up to the group owner as a potential spammer.
When joining a group, do check the group rules or protocols. For instance, the Bookcareers group on LinkedIn does not allow book or blog promotional posts and those who post find their posts quickly removed.
To ensure that your inbox isn't flooded with emails from the groups you join on LinkedIn , do make sure that you set your email digests for each group according to your personal requirements. For instance, some groups you might want to receive daily updates, another group you might want a weekly update, and some groups you might want no email updates from at all.
One of the best ways to get yourself  'noticed' on LinkedIn, is to ask an appropriate question or post discuss an interesting link you may have seen; but before you do, make sure you've monitored the group for a week or so, to see what others are posting and how you may contribute.
9. Update your status
Like Twitter and Facebook you can now update your status on your LinkedIn profile. You can make this public, show to everyone on LinkedIn, or just to your contacts. Remember though this is not Twitter; some people make the same status updates that you would find on Twitter but you have a different, more professional, audience on LinkedIn and sending all your tweets to LinkedIn is not appropriate.
10. Choose companies and people to follow
You can follow companies on LinkedIn, so choose publishers and recruiters who you want to work for now, or aspire to work for in the future. The Publishers who have pages on LinkedIn very often have their own career pages which are regularly updated with new vacancies.
Save