Traditional or indie? Hybrid author Nick Spalding looks at publishing from both sides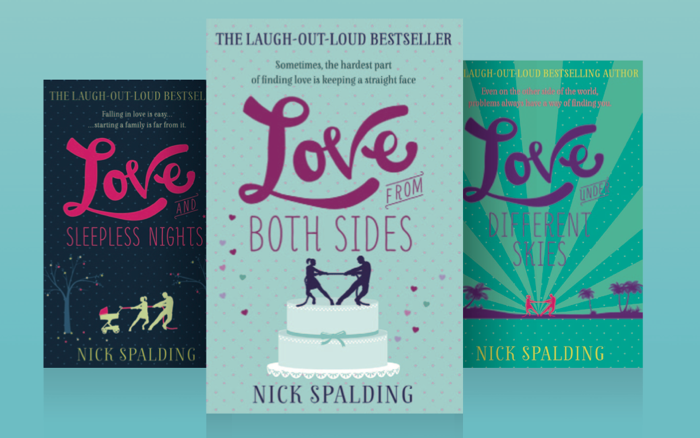 Jon Reed asks bestselling hybrid author Nick Spalding about the pros and cons of traditional v. indie publishing.
This interview first appeared in issue 4 of Publishing Talk Magazine.
Reading Time: 6 minutes
Nick Spalding was the UK's bestselling self-published author of 2012, with two of his Love… trilogy books (Love… From Both Sides and Love… And Sleepless Nights) appearing at #1 and #3 respectively on the KDP bestseller list on Amazon.co.uk. He was snapped up by Hodder & Stoughton imprint Coronet for a six-figure sum in October 2012. Jon Reed asks him how he did it, and which side of the publishing fence is best – traditional or indie?
JR. Congratulations on being the UK's bestselling self-published author of 2012! How did you achieve this?
NS. My brainwashing machine. I picked it up cheap – second hand from E.L. James. Alternatively… I guess I wrote the right book at the right time for the right people. Let's face it, the world around us right now isn't exactly the cheeriest of places, what with double-dip recessions, violent conflicts and Kim Kardashian. I try to make my books as funny as possible, and give readers something to take them away from all that serious, depressing garbage – even if it's only for the brief time they've got their head stuck in the book.
JR. Why did you initially choose to self-publish rather than go with a traditional publisher?
NS. My first book Life… With No Breaks is a weird, experimental little thing – essentially a fictionalized comedy memoir. Selling it to publishers would have been impossible. Self-publishing at Amazon seemed like the ideal thing to do with it. All the other novels have followed on from that book's modest success.
JR. How did you choose your digital formats and pricing?
NS. Easy. Amazon were at the time (Spring 2010) the only game in town. It was a no-brainer to upload the book to the Amazon Kindle store. Pricing was based on a 'keep it cheap enough to entice, but still turn a decent profit per copy' model. I never put any books out for free.
JR. How has the transition to traditional publishing been for you? What are the advantages and disadvantages of traditional publishing?
NS. It's been very easy so far. Hodder / Coronet and I have worked well together, with good communication and sharing of ideas, and I've encountered none of the conflict that I've read about other authors having. It's been a fun process – one that I'm hoping will continue for a long time.
I'd say each self-publisher should decide for themselves whether traditional publishing is the way to go; everyone is different in what they want out of their career. I was happy to relinquish 100% control of my books because of the chance it gave me to break into a wider market. Well… that and the advance they paid me.
The advantages of traditional publishing are:
The weight and experience of a team of people behind you – and all the extra editing, promotion, marketing and salesmanship that the relationship can bring.
The opportunity to enter markets that would not be accessible otherwise – paperback and international, for example.
Did I mention the advance?
The main disadvantage is the inevitable slow down that comes with a third party's introduction into the publishing process.
JR. How did you get started as a writer? What tips can you offer would-be novelists to get started?
NS. I've always written, ever since I was a teenager. It was all terrible, terrible crap, obviously. It took two decades, a lot of words on the page, and several jobs working in the communications industry for me to reach a stage where my writing was good enough to be published.
Sit your arse down in a chair on a daily basis and write until you hit eighty thousand words or your brain explodes – whichever comes first.
The best advice I can give is sit your arse down in a chair on a daily basis and write until you hit eighty thousand words or your brain explodes – whichever comes first. The first thing you have to do if you want to be a writer is get on with it. The second thing you have to do is finish what you started.
JR. How much was writing in a genre a conscious decision for you?
NS. It wasn't, to be honest. If I have a genre it's 'comedy'. The actual setting of the story doesn't matter to me. While I'm preoccupied with romantic comedies at the moment, I'd like to write humorous books across a whole range of genre as my career goes on. That's why my book The Cornerstone exists – I wanted to see if I could translate my humour to a fantasy setting. Whether the audience will want me to write in other genre though remains to be seen!
JR. You've written a couple of Life… novels in addition to your bestselling Love… trilogy. How important is publishing in a series for self-publishing?
NS. Continuity is certainly never a bad thing. If you can draw readers in with multiple titles with the same ongoing storyline, you increase your chances of growing an audience and building a brand. If you can keep readers in a constant state of expectation for your next work, you're onto a winner. That job is easier if they've already invested themselves in characters and situations that are part of a series.
JR. How does your writing process work? How do you go about planning and writing a novel?
NS. I don't tend to do too much planning. I have a good idea of the story I want to write and the characters that inhabit it, but that's about it. I write comedy, which I think always needs a certain degree of spontaneity. If I sat down and planned everything out I'd feel like I was strangling the humour before I'd even got it on the page. Besides, I want to enjoy the story as much while I'm writing it as readers (hopefully) do while they're reading it. Can't do that if I'm constantly looking at a cheat sheet!
JR. How an important is marketing for a self-published author? Is this something you enjoy?
NS. Marketing is vital if you're a self-pubber. You can write a story that would blow the collective minds of every book critic in the world, but if you don't get it out there and make people aware that the book exists, you're nowhere.
You can write a story that would blow the collective minds of every book critic in the world, but if you don't get it out there and make people aware that the book exists, you're nowhere.
To begin with, marketing was more of a necessary evil than anything. You feel like you're just one voice shouting in the crowd, which can be a bit disheartening. Luckily for me, I've built a platform where I can shout a bit louder these days, which makes the process of marketing more enjoyable. When you know at least a few people out there are listening to you, it can make a positive difference to your enthusiasm level regarding all that promotion and marketing work you're putting in.
JR. How successful do you find your blog and other social media for promoting your books?
I find social media a convenient way to promote my work and announce any news I might have about future releases or projects, but how much of it has directly led to sales I couldn't tell you. Probably more so now given that I've built an audience than when I started out, I'd say. My initial success was more or less purely down to word of mouth – which is always going to be the most effective way of marketing and promoting when you get right down to it. I really use and enjoy social media more for the opportunity it affords me to communicate with the people who read my books.
Nick Spalding's Top Tips for Self-Publishing
Get the book finished. You can't worry about all that marketing and promotional blather until you've got a product to sell.
Target your audience. Make sure that what you are writing is something likely to be commercial, mainstream and read by a large amount of people (if you want to make any money, anyway).
Try to have fun with it. It can seem quite daunting when you first start out as a self-pubber, but never let it stress you out too much. There's a great community of people out there just like you. Get to know them and enjoy the process. No-one ever became successful doing something they hate.
Never miss an opportunity. If you ever get the chance to do an interview with a popular resource like Publishing Talk, make sure the last thing you write is a blatant plug for your work!
Love… From Both Sides, Love… And Sleepless Nights and Love… Under Different Skies are availale in paperback and ebook now. Follow Nick Spalding on Twitter at @NickSpalding and read his blog at www.nickspalding.com.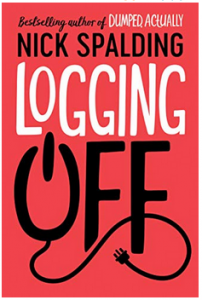 UPDATE 2020: Nick Spalding's latest book Logging Off is out now.
Save