INTERVIEW: Why weddings can be murder for Val McDermid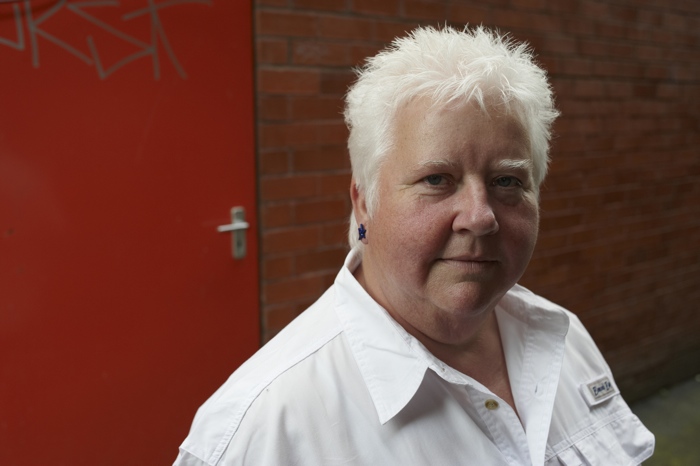 Where does Wire in the Blood creator Val McDermid get her ideas? Danuta Kean investigates.
This interview first appeared in issue 1 of Publishing Talk Magazine. An edited version first appeared on this site on 20 July 2012. 
Reading Time: 8 minutes
Weddings can be murder for Val McDermid. As can radio shows, conversations, walks on beaches and even book reviews. For these are among the unlikely inspirations for the crime writer's 25 bestsellers, including recent UK number one The Retribution (Sphere, 2012).
'When I started off I thought I had maybe three or four novels in me,' she explains over a cup of tea on the lawn of St Hilda's College, Oxford, her old college and where she is hosting a crime writing conference 'The concept that I would still be full of ideas after 25 books seems bizarre, but there has never been a point in the last 25 years when I have thought, "What am I going to write?"'
The concept that I would still be full of ideas after 25 books seems bizarre, but there has never been a point in the last 25 years when I have thought, "What am I going to write?"
For those of us who struggle to realize one idea McDermid's admission that she 'always has at least three ideas at an advanced stage' in her imagination will be a source of wonder as well as envy. 'Things come from small beginnings,' she explains. 'It can be a throwaway line on the radio or a little anecdote someone shares over dinner.'
If it's not interesting enough to remember, it's not interesting enough for a reader to want to read about it.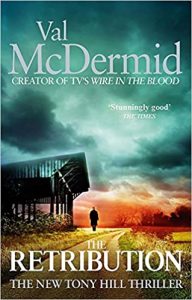 Unlike other writers the Queen of British Noir does not scribble these crumbs of inspiration into a notebook. 'I work on the principle that if it's not interesting enough to remember, it's not interesting enough for a reader to want to read about it.' Her voice retains the tough, no nonsense tones of her working class roots in Fife, Scotland. It is one of those accents that can make a whisper sound sinister and clashes with our surroundings – a rose garden in an elite English university.
It was from here that she spied the inspiration for Trick of The Dark (Sphere), her 2010 standalone thriller. 'I was sitting on the lawn just by the river, over there,' she points towards the banks of the Cherwell, where a girl in a punt trails her hand in the water, while her male companion lazily pushes it along.
'There was a wedding going on and I saw the wedding party arrive and I recognized the mother of the bride, which started a train of thought about what would be the ramifications of that sort of unexpected encounter?' Her gaze is fixed on the couple in the punt and I wonder what train of thought they are releasing.
'I started to think, where could you go with that idea? And by the end of the day, what I thought was that the most interesting thing that could happen would be that the bridegroom would be dead by bedtime.' She laughs at the admission, a deep, dirty laugh, as guilty as a secret.
Once McDermid has an idea for a book it can take years before it is committed to paper – the inspiration for Trick of the Dark took 12 years to bear fruit. In that time she teases out plot and character details. Much of this incubation is done in her head, though it occasionally seeps out – like her famous creation Dr Tony Hill, McDermid has an unconscious habit of talking to herself.
She can often be spotted walking her dog on the beach near her village home on the Northumberland coast. The dog is a useful foil if anyone passes by worried that the short, middle-aged woman ahead is nattering away to nobody.
Vocalizing her thoughts helps overcome obstacles in stories. 'I remember in The Last Temptation, one of the key things that had to happen was for this Dutch cop and German cop to share details of a couple of cases they were working on that, on the face of it, didn't have any connection. Why would they be sharing information?' she recalls.
'I was puzzling with it for a while and then was in the shower one morning and shouted out: "Because they are lesbians!"' She bangs her hands on the bench, her shout cutting through the sedate atmosphere of the garden. Across from us a couple of elderly women look up and laugh.
McDermid's partner, American publisher Kelly Smith, is used to such outbursts. 'There was a point yesterday when I was driving down here with Kelly and she suddenly said, "What are you doing? Who are you talking about? Is that the next book?"' McDermid pulls a face of sweet innocence. '"No, I am just singing."' A great laugh rips from her belly.
In a world in which authors are pressured to be as presentable as D-list celebrities, McDermid is refreshingly unselfconscious. Dressed in baggy t-shirt and dayglo shorts, her image is at odds with the title most often used by profile writers: Queen of Crime. When I wrote that she looked more like crime's 'gobby chief shop steward', she emailed to say she planned to get it printed as a slogan on a t-shirt.
McDermid goes against type for crime writers in other ways. In a genre where creative writing students are told to plan every detail of their plot, it comes as a surprise to hear the creator of Wire In The Blood (Harper, 1997) starts each novel with nothing written down.
Not that she has always written 'blind'. Until The Torment of Others (HarperCollins, 2004), her fifteenth novel, she worked to a detailed synopsis, but she hit a wall. 'It was like wrestling with water,' she recalls of the crisis. 'Every time I tried to pin down the rest of the plot it would slither away from me.'
With a deadline looming and in fear that she had finally run out of ideas, she fled to an isolated holiday home in Italy. 'There is no phone or internet,' she explains. Each day she would rise early and write solidly until seven, when she would have dinner and a bottle of wine. 'Then I would go to bed and the next day do exactly the same again.' Within nine days she had completed 60,000 words. 'By the end of it I couldn't speak in sentences.'
In trepidation she sent the book off to her editor, who immediately got back to her extolling it as 'the best draft' McDermid had ever produced. The novel went on to win the Theakston's Old Peculiar Crime Novel of the Year and to be shortlisted for the Crime Writers Association Gold Dagger. 'I have no fucking idea how that happened,' she says. Clearly, 10 books on, the trauma of the experience still resonates – as does the liberation of writing without a synopsis: she has not used one since.
The years before writing a novel are spent teasing out its broad structure. When McDermid sits down to write the first 50 pages – usually in late summer – she has a rough idea of where she is going and 'feels' her way into it. 'I then put the manuscript aside and start again in January. Because I have been thinking over it so much, it is at the front of my mind when I start again and it all comes out onto the page.'
The years of careful analysis do not mean McDermid knows every detail when she sits down at her computer again in January. 'There are still chunks that won't happen until I get to them,' she admits. I wonder if the adrenaline rush that comes with such deadline baiting is a throwback to her past as a crime reporter for The People? It does ensure her work has an edge of urgency often lacking in prose dependent on chapter-by-chapter synopsis.
Being able to work to rigid deadlines in her previous career goes some way to explain McDermid's prodigious output. She kicked off her crime writing careers in the '80s with a series featuring gay journalist Lindsay Gordon, which ran to six novels. Since then she has written six featuring private eye Kate Brannigan and seven featuring psychologist Tony Hill and detective Carol Jordan. In between these, she has written a further seven standalone novels.
She says there is a strong difference in writing series and standalone novels. 'In a standalone book you can allow in the earlier stages for the plot to be paramount.' As McDermid describes it, there is a Zen-like pleasure in developing character and plot together for a one-off novel.
'The earlier stages of planning the characters are at the service of the story, and it is only in the process of the writing that you come to an understanding of the characters, which in turn feedbacks into what the possibilities are for the plot and that feeds into the characters….' She leans back into the wooden bench. Arms out-stretched either side of her, she looks as satisfied as a cat after a saucer of cream.
The great joy of series fiction is you get to spend a long, long time with characters.
Serial novels, she says, offer different pleasures. 'The great joy of series fiction is you get to spend a long, long time with characters and you can really develop the full richness over a period of time. In a one off novel things can get rushed.' It is not unknown for her to finish a standalone novel with a strong desire to spend more time with its characters. The first Hill and Jordan novel, The Mermaids Singing (Harper, 1995), started off as a standalone. 'I just wanted to return to those characters.
The sun disappears behind a great grey cloud and a church bell rings in the distance. I am aware our hour together is closing. McDermid has a paper to present at the conference though she seems in no rush to leave. Before we part I ask her about her support for début crime writers – in recent years she has chaired the New Blood event at the Theakston's Old Peculiar Crime Writing Festival in Harrogate.
I am excited by what crime writing has become in the past 10 years, the expansiveness of it. The quality is quite astonishing.
She supports new writers because the likes of Reginald Hill and Sue Grafton helped her when she started out. 'I am also a genuine fan of this genre,' she adds with a broad smile. 'I am excited by what crime writing has become in the past 10 years, the expansiveness of it. The quality is quite astonishing.'
Would she like to be starting out again now? 'No.' Her mood darkens. 'I think one of the problems with publishing now is that it has become a very short-term business. I would not want my career to be judged on my first three books.' Her voice is emphatic. 'It takes a while to develop the skills that will help you along the way. The way publishing is now, if you haven't broken by your third book, it's goodnight Vienna.'
Val McDermid's Top Tips for Crime Writing
Inspiration: keep an open mind and allow small details to start trains of thought. Then ask questions to see where the idea takes you.
Ideas: if it stays in your memory it is a good idea. If you can't remember it, it was probably not good enough to sustain a novel.
Synopsis: if you are finding it hard to follow a synopsis, don't be afraid to tear it up and write 'blind'.
Character versus plot: serial characters can develop; in one-off novels character needs to be subverted to driving along the plot.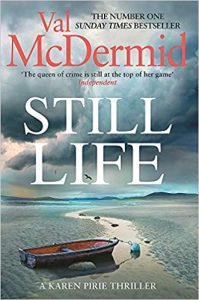 UPDATE SEP 2020: Val McDermid's latest book, Still Life is published by Little, Brown and is out now.
Save
Save
Save
Save
Save
Save
Save
Save
Save
Save
Save