How to use Wattpad to get a book deal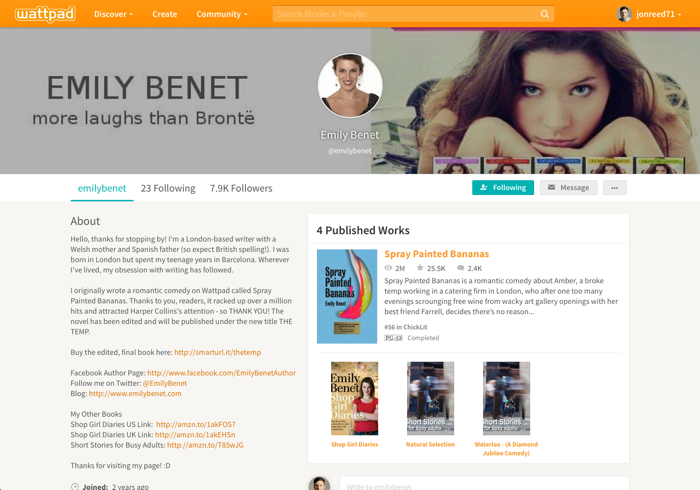 Serialized novels were popularised by Victorian novelists such as Charles Dickens. Today, free online tools enable anyone to do it – and reach an audience. But would you do it for free? What if it lead to a million hits and a two-book deal with HarperCollins? Emily Benet tells us how she used Wattpad as a launchpad, and shares her top tips for success.
Reading Time: 4 minutes
Would you write a novel for free?
That was the request that landed in my in-box back in 2012.  The email came from a content manager at Wattpad. If you haven't heard of it, it's an online platform which lets you upload stories and read thousands of others for free. I had posted a couple of short stories there and they had seen from my profile that I had been published before. They were looking for decent novels for their Featured section.
Their promo pack informed me of their ten million monthly readers and the proof was in the hundreds of thousands of hits their Featured novels had. Imagine having that many people read your work? The request suddenly seemed a tiny bit appealing.
It occurred to me that £0.00 matched my advance for my first book Shop Girl Diaries. I also reasoned that I had been writing novels for free since I was 11; that I was currently stuck in the middle of a novel no one had expressed interest in; and committing to producing a chapter a week might actually be good for me.
To be clear, it wasn't that I was giving my copyright away. I would have to keep my work on their site for 6 months after I'd written it. After that I could do what I wanted with it.
My philosophy is Say Yes, Worry Later. Once I'd committed to writing a book for Wattpad, the idea for a romantic comedy called Spray Painted Bananas came quickly. I wrote like mad for four months, posting two chapters a week. Many sites claim they have a huge readership, but getting half a million hits on my novel showed they weren't exaggerating. The thousands of comments encouraged me to keep on going and the feedback even influenced my plot and made me see things through the eyes of the readers. The huge number of hits led to me signing with an agent  very quickly.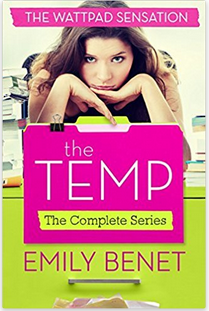 Fast forward to January 2015 and I'm laying out my shiny new novel for my book launch. It's called The Temp and it's published by the Harper Collins' imprint Harper Impulse. It's the new, edited version of that romantic comedy I wrote on Wattpad. It's about a broke temp called Amber. One of her life hacks is to go to whacky art gallery openings for free wine with best friend Farrell. One evening she stares at a stuffed, green chicken on display and thinks: I could do this. Enter drop-dead gorgeous gallery promoter and a bunch of unlikely friends to help and hinder her crazy idea to unleash spray painted bananas across the capital.
There are a growing number of authors who have had success on Wattpad, and both agents and publishers are keeping their eye out for talent. Writing a novel is high risk if your aim is to make money. I still don't know what it's like to get an advance. However, if you're passionate about writing and determined to get published, then you should open yourself up to new opportunities. Don't waste time complaining how hard it is to get published, but spend time looking for ways to make it happen.
Oh, and write, a lot. That's always going to be the most important part. You can't share, sell, promote a novel if you haven't written it yet.
How to use Wattpad – Emily Benet's top tips
Research. Check out the novels on Wattpad to see whether it's the right platform for your writing. Wattpad has quite a young audience and the  most popular genres include YA and fan fiction. That said, it is growing and changing and it's worth exploring the different categories.
Front Cover. If you're set on writing a novel for Wattpad, then you're going to need an enticing front cover. The more professional it looks, the more likely people will click on your story. Connect with designers on Twitter to see what they can offer if you can't do it yourself.
Frequency. I wrote a buffer of 10,000 words before I started posting on Wattpad. I didn't want to be caught out and not be able to post one week. It's very annoying to be reading a book and to have to stop and wait ages to find out what happens next. Choose a frequency to suit your life. You could write short pieces once a day, huge chunks once a month – it's up to you!
Request to be Featured. If you have any experience of being published, why not contact Wattpad to see if they might feature your novel? Showcase your work by posting a chapter or short story first. If you don't ask, you don't get.
Sharing. Life is too short to be shy or precious. Share the fact you're writing a free novel on Wattpad across your social networks. Open yourself up to feedback and encouragement.
Keep going. Even when you don't get thousands of hits or comments, keep going. Just think every word written brings you closer to a whole novel written. Agents and publishers need whole novels, not just good beginnings.
Whatever your process, enjoy it. If you're not enjoying it, why do it at all?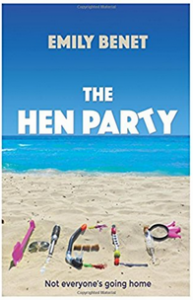 UPDATE: Emily Benet's book, The Hen Party, is available now.
Save