MASTERCLASS: How to Perfect Your Submission to Agents and Publishers – with Scott Pack
Want to get a literary agent? If you want to get traditionally published, you need to submit a compelling book proposal. This masterclass with Scott Pack will teach you step-by-step how to perfect your submission.
Available on demand to Publishing Talk members.
Watch Now
How to Get a Literary Agent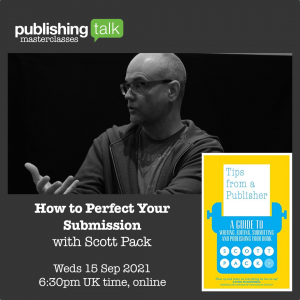 Want to get a literary agent – and a publishing deal? You need a winning strategy, a compelling synopsis and a killer cover letter!
Scott Pack's popular Publishing Talk Masterclass on how to perfect your submission to agents and publishers is now available on demand.
Get practical, no-nonsense advice on submitting your book proposal to agents and publishers from veteran publisher Scott Pack on this essential masterclass for new authors.

If you follow the step-by-step advice in this class, you will significantly increase your chances of success. Most authors DON'T – so you'll already be ahead of the game!
Watch Now
What you will learn
On this masterclass, you'll learn how to get an agent – so you can get a publishing deal. Whether you're writing fiction or non-fiction, this class offers straightforward advice on how to give your submission the best chance of success.
You'll learn how to find a list of literary agents, identify the right agent or publisher to submit to, write a killer synopsis and cover letter – and avoid the pitfalls so many aspiring authors fall into. Plus, for those brave enough to share their pitches, there'll be a chance to receive a live critique during the session.
How to Submit to Agents and Publishers
What we will cover:
How to research agents and publishers – and identify the right ones for you
How to write a cover letter that will ensure your pitch and synopsis get read
How to put together an enticing submission package
The secrets to writing a good synopsis
The differences between submitting fiction v. non-fiction
How to get a literary agent.
Workshop includes: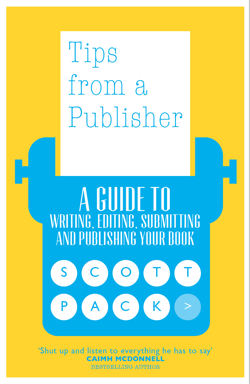 About Scott Pack
Scott Pack was head of buying at the Waterstones book chain before spending several years as a publisher at HarperCollins, acquiring and editing numerous bestsellers and award-winning books.
He is now a freelance editor and university lecturer, and hosts many writing workshops and classes.
Scott is also the author of two essential guides for authors: a short ebook, How to Perfect Your Submission; and Tips from a Publisher: A Guide to Writing, Editing, Submitting and Publishing Your Book (Eye Books, 2019), which is also available in the Publishing Talk Bookshop, which helps support local, independent bookshops in the UK.
About the Publishing Talk Masterclasses
Our online masterclasses are talks, interviews, seminars and workshops from successful authors, publishers, agents and industry experts designed to help you fulfil your potential as an author. Find out more on our masterclasses page.
This masterclass is available now, on demand, to Publishing Talk members.
Watch Now