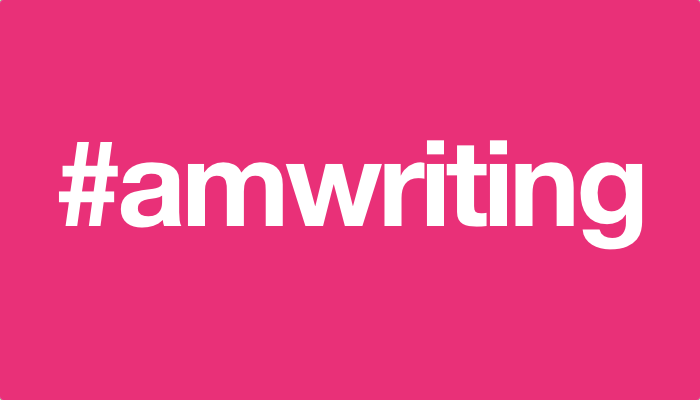 Hashtags are more important than ever – yet can still be a confusing minefield if you're new to social media. Here are 10 of the most useful hashtags for writers.
This is an update of a post that first appeared on this site on 03 Aug 2011.
Reading Time: 6 minutes
Six years ago I wrote a post called '10 Twitter Hashtags for Writers.' It was the 2nd anniversary of the #amwriting hashtag, Twitter was just five years old, and I had recently published an ebook guide to Twitter. Much has changed in the last six years. Today is the 8th anniversary of #amwriting, Twitter has matured into a stroppy pre-teen, and my ebook needs updating. Yet this has remained a popular post – and these hashtags are still used.
Hashtags have not only endured in a fast-changing social media environment, they have become more important than ever. They have since been adopted by Facebook, and especially by Instagram, where their use is arguably even more important than Twitter for making your content findable. They have become so mainstream – ubiquitous, even – that no self-respecting conference or TV show would dare convene or broadcast without announcing an official hashtag.
What are hashtags?
If you're not yet familiar with hashtags, they are simply words or phrases used in tweets with the # symbol in front of them. Make sure you don't use any spaces or punctuation, and they become links in Twitter that, when clicked, reveal a timeline of everyone whose tweets contain that hashtag.
The default view shows you the Top tweets using the hashtag you've clicked on – but you can also click on Latest in the top menu to see the most recent tweets using your selected hashtag. You can also filter by People, Photos, Videos, News and Broadcasts.
You don't have to trawl Twitter to find a hashtag to click on – you can also simply type one into the Twitter search box, or go to twitter.com/search.
Use media in your tweets
To make the most of your hashtags, include a relevant weblink where appropriate and where space permits. Images have become more important in Twitter over the last few years too -as have videos and GIFs (short looping videos and animations). You can share video or audio files (such a a link to a YouTube video), which will play directly in your Twitter stream. These all make your tweets far more visible than just a line of text, and you will see plenty of them attached to tweets using the following hashtags.
10 hashtags for writers
There are many hashtags that are useful to help you promote your books, connect with other writers, and – well – write. How do you use them, and which should you use? The 10 hashtags for writers in that original list are still in use. So here is a lightly tweaked version of the original list, plus a few extras, with some updated examples of hashtaggery-in-use.
Click on a few of the following 10 hashtags for writers to get a feel for them and how you might use them. Note that you can use more than one at a time.
Writing can be a solitary experience, and Twitter is a great way of connecting with other writers. It's like a virtual watercooler. #amwriting is the hashtag started by Johanna Harness in 2010 as a way of supporting writers and fostering a sense of community. Use it to tell us what you're working on, support and learn from others, and share your experience.
Variations on #amwriting include #amediting (if you're at the editing stage) and #amquerying (writing a query letter or book proposal). If you're at the editing stage, let people know and ask for any advice you need.
Every. Day. Almost… #amwriting #amediting #amquerying pic.twitter.com/xrOhbKoLu0

— Kimberly Hayle (@kimberlyhayle) August 1, 2017
Use this to offer an insight into your life as a writer, your writing process – or a wry comment on what it's like to be a writer, of the 'you know you're a writer when…' variety.
Writers never stop working, even reading counts as research… #amwriting #writerslife pic.twitter.com/UIp5f3KyFf

— Lacey London (@thelaceylondon) August 2, 2017
#WriterWednesday or #ww was originally intended as a way to give shout-out to writers / suggest authors to follow, or to share writing tips. In practice, it also covers pretty much anything else to do with writers or writing too.
I use it quite a lot (on a Wednesday), and even started a weekly paper.li online newspaper called The #WriterWednesday Weekly. This generates its stories from links shared by people on Twitter using #WriterWednesday, and tweets a link to itself. Weekly. On a Wednesday.
Wishing you an awesomely productive #WriterWednesday! ???? #amwriting pic.twitter.com/SxGpjADF7p

— Heather Macht (@AuthorHMacht) August 2, 2017
While #WriterWednesday is often used to share writing tips, if you specifically want to share or find writing tips, use #writetip or #writingtip.
A story is a series of acts that build to a story climax which brings about absolute and irreversible change.#writingtips #amwriting

— Robert McKee (@McKeeStory) July 30, 2017
For some people, regularly sharing your word count in public can be a great way to stay focused. Use it to share your successes (and failures!) and motivate yourself and other writers.
Total #wordcount for July: 20,064 words! Met my goal! #amwriting pic.twitter.com/ilTqSUwrAu

— Amianne Bailey (@AmianneB) July 31, 2017
#followfriday or #ff is used on a Friday to suggest people to follow to your followers. Ideally, don't just include a list of @usernames – tell us why we should follow the person or people you suggest. You can do them one at a time, or include a list of people grouped together by topic or reason.
#ff can help raise your profile too, if people return the favour, or at least thank you in public. This isn't why you should do it – but it's an added bonus if it happens. You also use #ff to thank people for helping you in some way.
#ff @publishingtalk @publishingjobs for supporting #bookcareers Salary Survey spon @Inspiredjobs Closes at midnight https://t.co/B2ZQTXMBWD

— bookcareers.com (@bookcareers) July 28, 2017
Another thing you can do on a Friday is tell us what you're reading. This is a great way of name-checking other authors your admire, often with a picture of the book and short review. You can also use #amreading any day of the week – but #fridayreads is more often used for book reccomendations.
Ideally, include the Twitter @username of the author and official hashtag for the book if either exist; and a buying link to the book. If you have an Amazon Associates account, you might even earn a few dollars (pounds, euros etc.) if people click through and buy your #fridayreads recommendation.
If someone else gives a shoutout to one of your books – whether one that you've written, or one that you've published – like and/or retweet it on your own Twitter account.
Publishers can use #fridayreads to promote books. I often see them suggesting a Friday Read that happens to be a book that they've published that week – sometimes also combined with a giveaway.
You can use #fridayreads to share mini book reviews – whether your own, or quoting someone else's review.
"#AWrinkleInTime is this beautiful example of creating this other world.." –@TimothyAnne, Curatorial Museum Specialist @NMAAHC✨ #FridayReads pic.twitter.com/dHUdvaioD6

— AmyPoehlerSmartGirls (@smrtgrls) July 28, 2017
Use #writingprompt as a way of engaging with other writers by suggesting a trigger for a story; or to look for writing inspiration yourself. Also check #writingprompts (plural), since this is used too; and maybe throw in an #amwriting for good measure!
Write out the best or the worst day of your life. #writingprompt #amwriting

— Hope N. Griffin (@HopeNGriffin) July 28, 2017
Running a book giveaway on Twitter? Use #bookgiveaway to help people discover it. This can be used by publishers or authors. The entry criteria are usually as simple as 'follow and retweet' with a closing date. If you win, the person running the giveaway will usually DM (direct message) you to ask where you'd like your book sent.
????GIVEAWAY????????RT + follow for a chance to win 1 hardcover copy of You, Me and Empathy – ends 15/08. #kidlitart #kidlit #bookgiveaway #giveaway pic.twitter.com/1xqzHBRvIH

— Sofia Cardoso (@sofiagcardosoo) July 31, 2017
You know that you should never pitch to an agent on Twitter, right? They really don't like it. However, you should follow them, and many are prepared to give advice on Twitter. #askagent is the hashtag to use, which some agents will seek out to answer your questions. #askpub and #askeditor are variations to ask questions of publishers and editors. You can also use #amquerying to send your 140-character pitches out into the world.
Agents will sometimes announce when they're available for questions using #askagent, with a date and time – or simply if they have a few minutes to spare!
I can do a quick #askagent while kids are in wave pool if anyone has questions?

— Jenny Bent (@jennybent) July 30, 2017
Day-of-the-week hashtags
Consider the following daily hashtags to make yourself more visible on specific days of the week:
Seasonal hashtags
Some hashtags work well during specific months or seasons. #SummerReads is a seasonal alternative to #FridayReads. And if you're doing NaNoWriMo (National Novel Writing Month) in November, find tips and support with #NaNoWriMo or #CampNaNoWriMo.
Genre and topic hashtags
It can sometimes be useful to specify a genre in your tweets – particularly if combined with a #bookgiveaway – such as #crimefiction / #crimefic, #childrensbooks / #kidlit, #yalit, #sciencefiction / #scifi, #romanticfiction, #romcom, #thriller etc.
You can also use hashtags to talk about publishing topics such as #selfpublishing / #selfpub / #indieauthors or #ebooks.
Chat hashtags
You can find various genre and topic-based discussions on Twitter, which sometimes take place at specific times. Try, for example, #YALitChat, #litchat, #scifichat or #scriptchat.
Share your favourite hashtags
What other hashtags for writers have you come across or found useful? Do add them to the comments below.
Save