Backdoor Routes to Getting a Literary Agent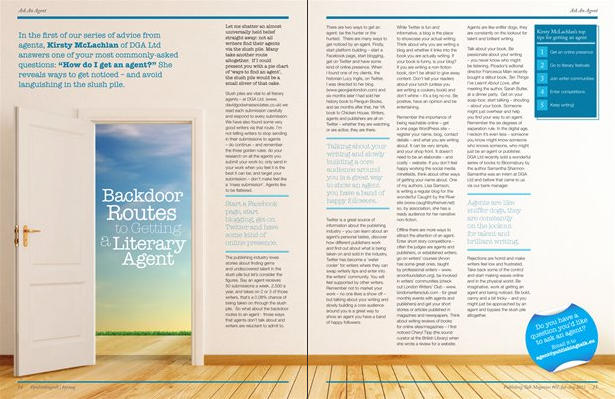 Kirsty McLachlan of DGA Ltd answers one of your most commonly-asked questions: "How do I get an agent?" She reveals ways to get noticed – and avoid languishing in the slush pile.
Let me shatter an almost universally held belief straight away: not all writers find their agents via the slush pile. Many take another route altogether. If I could present you with a pie chart of 'ways to find an agent', the slush pile would be a small sliver of that cake.
Slush piles are vital to all literary agents – at DGA Ltd we read each submission carefully and respond to every submission. We have also found some very good writers via that route. I'm not telling writers to stop sending in their submissions to agents – do continue – and remember the three golden rules: do your research on all the agents you submit your work to; only send in your work when you feel it is the very best it can be; and target your submission – don't make it feel like a 'mass submission'. Agents like to be flattered.
The publishing industry loves stories about finding gems and undiscovered talent in the slush pile but let's consider the figures – say an agent receives 50 submissions a week, 2500 a year, and takes on 2 or 3 of those writers, that's a 0.08% chance of being taken on through the slush pile. So what about the backdoor routes to an agent – those ways that agents don't talk about and writers are reluctant to admit to.
There are two ways to get an agent: be the hunter or the hunted. There are many ways to get noticed by an agent. Firstly, start platform building – start a Facebook page, start blogging, get on Twitter and have some kind of online presence. When I found one of my clients, the historian Lucy Inglis, on Twitter, I was directed to her blog (www.georgianlondon.com) and six months later I had sold her history book to Penguin Books, and six months after that, her YA book to Chicken House. Writers, agents and publishers are all on Twitter – whether they are watching or are active, they are there.
Twitter is a great source of information about the publishing industry – you can learn about an agent's personal tastes, discover how different publishers work and find out about what is being taken on and sold in the industry. Twitter has become a 'water cooler' for writers where they can swap writerly tips and enter into the writers' community. You will feel supported by other writers. Remember not to market your work – no one likes a show off – but talking about your writing and slowly building a core audience around you is a great way to show an agent you have a band of happy followers.
While Twitter is fun and informative, a blog is the place to showcase your actual writing. Think about why you are writing a blog and whether it links into the book you are actually writing. If your book is funny, is your blog? If you are writing a non-fiction book, don't be afraid to give away content. Don't tell your readers about your lunch (unless you are writing a cookery book) and don't whine – it's a big no-no. Be positive, have an opinion and be entertaining.
Remember the importance of being reachable online – get a one page WordPress site – register your name, biog, contact details – and what you are writing about. It can be very simple, and your shop front. It doesn't need to be an elaborate – and costly – website. If you don't feel happy working the social media minefields, think about other ways of getting your name about. One of my authors, Lisa Samson, is writing a regular blog for the wonderful Caught by the River site so, by association, she has a ready audience for her narrative non-fiction.
Offline there are more ways to attract the attention of an agent. Enter short story competitions – often the judges are agents and publishers, or established writers; go on writers' courses (Arvon has some great ones, taught by professional writers), be involved in writers' communities (check out London Writers' Club for great monthly events with agents and publishers) and get your short stories or articles published in magazines and newspapers. Think about writing reviews of books for online sites/magazines – I first noticed Cheryl Tipp (the sound curator at the British Library) when she wrote a review for a website. Agents are like sniffer dogs, they are constantly on the lookout for talent and brilliant writing.
Talk about your book. Be passionate about your writing – you never know who might be listening. Picador's editorial director, Francesca Main recently bought a debut book, Ten Things I've Learnt About Love, after meeting the author, Sarah Butler, at a dinner party. Get on your soap-box: start talking – shouting – about your book. Someone might just overhear and help you find your way to an agent. Remember the six degrees of separation rule. In the digital age, I reckon it's even less – someone you know might know someone who knows someone, who might just be an agent or publisher. DGA Ltd recently sold a wonderful series of books to Bloomsbury by the author Samantha Shannon. Samantha was an intern at DGA Ltd and before that came to us via our bank manager.
Rejections are horrid and make writers feel low and frustrated. Take back some of the control and start making waves online and in the physical world. Be imaginative, work at getting an agent and being noticed. Be bold, canny and a bit tricky – and you might just be approached by an agent and bypass the slush pile altogether.
Kirsty McLachlan's top tips for getting a literary agent
Get an online presence
Go to literary festivals
Join writer communities
Enter competitions
Keep writing!
This article first appeared in issue 1 of Publishing Talk Magazine.
Save