How to Promote Your Books with Pinterest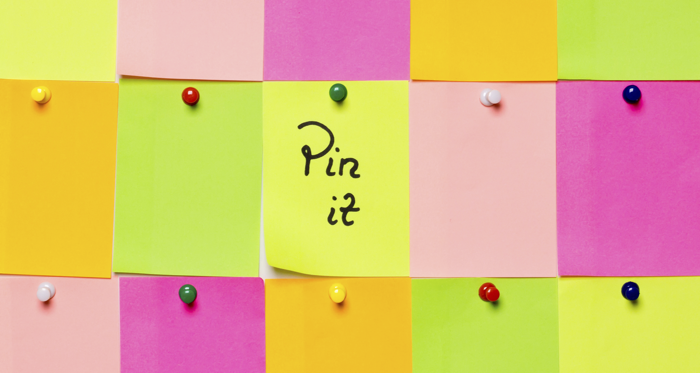 There's a lot of bookish pinning going on. Are you on board yet? Asks Jon Reed.
This article first appeared in issue 1 of Publishing Talk Magazine.

Are you on Pinterest yet? The latest social media phenomenon has crept up on many of us – yet the statistics show that pinning is winning. Pinterest is already the third most popular social network after Facebook and Twitter, according to a 2012 report by Experian. It has an estimated 13 million users. It is the fastest site ever to break through the 10 million unique US visitors mark according to comScore. And it now drives more referral traffic than Google+, YouTube and LinkedIn combined, according to a Shareaholic study in January 2012. All of which is reason enough to take an interest in Pinterest. But what is it – and how can you use it as a publisher or an author?
What is Pinterest?
Pinterest is a virtual corkboard – a place to pin your interests. You create and arrange boards on specific topics and pin images and other media such as video to them. Pinterest starts you off with a few default boards, including 'Books Worth Reading' and 'Places and Spaces'. You can delete or rename these to suit your interests. Add the 'Pin It' button to your browser's toolbar and you can start pinning images to your boards from any web page with a couple of clicks. Add or edit descriptions of them. Other people can like and comment on your pins; and they can 'repin' (share) your pins on their own boards.
Not just for girls
Isn't Pinterest just full of fashion, flowers and fairy cakes? The statistics do suggest a feminine bias. In 2012 it was reported that 83% of users in the U.S. were women. However, in the UK the picture is different: 56% of users are male, with an age profile 10 years younger than the U.S. typical age range of 35-44.
Even if you don't think the current user base of Pinterest makes it a place for you, be aware that demographics may differ geographically, and both users and usage may change over time – especially where new networks are concerned. Get in there early, and don't be put off by the décor.
Whose image is it anyway?
Copyright is the big controversy with Pinterest for many publishers. To me, an image pinned doesn't seem much different to an image displayed in Google image search results. They both just link to the source – and you want to encourage links to your website, don't you? The real danger with Pinterest is not having images on your website. When I joined Pinterest (pinterest.com/jonreed71) there were many web pages that I wanted to link to – but couldn't, simply because there were no images on the page. No image, no link.
Why Pinterest works
In some ways Pinterest is just another social bookmarking site: people use it to share links to other websites. But because you are sharing an image from the web page you are linking to, rather than a text link to it, it has a much higher click-through rate than text-based social bookmarking sites. The links are also more permanent than those shared on Twitter, as they are more likely to be discovered, shared and clicked on long after links shared on Twitter have disappeared way down your timeline.
Each image you pin links back to its source – and some of these should link to your own website. You can also upload images, and specify where they should link to. This is what drives the referral traffic from Pinterest. Use automatic tweets and Facebook shares of your pins and the effect is multiplied.
Who is Pinning?
Lots of authors, publishers and book trade folk are already hooked. Isabel Losada (pinterest.com/isabellosada), author of The Battersea Park Road to Paradise says: "As an author Pinterest gives me the opportunity to post pictures from my books (as I write narrative non-fiction) and to promote the covers." Bestselling author Jill Mansell (pinterest.com/jillmansell1) uses it "as a scrapbook for ideas for the next book – places, pets, hotels, houses, views. Also places I've used in previous books." Paranormal romance author Michele Hauf (pinterest.com/toastfaery) says: "I use Pinterest to create boards for each of my books so readers can see inspiration for heroes, heroines and their settings."
Publishers are joining in too. Kristen O'Connell, director of online marketing at Penguin USA (pinterest.com/penguinbooksusa) says: "We believe that Pinterest is proving itself to be a valuable way for publishers to connect writers with readers. What Pinterest is really great at is promoting a lifestyle, and a lot of the literary and book-themed boards we come across revolve around reading, jacket design, and a general love of books."
But plenty of Pinterest users who have nothing to do with writing or publishing are also pinning books. They are your readers. Isabel Losada says: "I love that my readers can create boards of 'Books Worth Reading' and feature my books there." Since 'Books Worth Reading' is one of the default boards that new users start with – and a popular one that many keep – a lot of users pin their favourite books.
Is it working?
Pinterest is fun, inspiring, and social. But if you're using it as a promotional tool, you'll also want to find out it it's working for you. Use Pinerly or PinReach to track your repins and likes and to find out which pins and boards are the most popular – and which result in click-throughs to your site.
Pinterest is still relatively new, but the early statistics are impressive. What does the future hold? Isabel Losada says: "I see it becoming much bigger than it is now. It's very addictive. Also, as a writer who deals in words all the time, it's good to have an evening off and just look at pictures."
Five ways to use Pinterest
Pinterest is useful both as a way to help you write and to promote your books. Just because it is a visual medium doesn't mean that it only works for travel and children's books.
List your books. This is the most obvious marketing method. Create a board called 'My Books' and pin images of your book jackets to it. These might link to your book website, your publisher's website or Amazon. They should link to a site where people can actually buy your book. If you link to Amazon, set up an Amazon Associates account so that you earn a percentage of whatever people buy once they're on the site. If you add prices to your descriptions, these will appear as a corner flash over your image. Before publication you can also pin your cover roughs to invite feedback and create a bit of pre-publication buzz.
Run promotions. If you are a publisher or bookseller, consider using boards for specific promotions. Kristen O'Connell says: "Pinterest has provided an easy platform for creating thematic promotions, including our picks for summer reading, book club selections, or collections of lifestyle books that work so well across Pinterest."
Show your setting. The default 'Places and Spaces' board is popular on Pinterest, and images of locations are widely repinned. If you write fiction, pin images that reflect the settings of your book. If you are a travel writer, this becomes something rooted in reality – a photo journal of your discoveries. Carol Drinkwater's (pinterest.com/CarolDrinkwater) 'Travelling the Mediterranean Olive Route' board collates images cataloguing her quest for stories of the olive tree. These images create interest around her books, including The Olive Route and The Olive Tree – and link to her website.
Create mood boards. Pinterest is designed for creating mood boards. Take advantage of this, whether for covers, books or characters. Sharing your inspiration gives people an insight into your creative process. As an author, building a collection of inspiring images helps you write; but it also builds a list of people who are interested in your book before publication. After publication, these boards help share your vision with readers.
Share your expertise. If you want to promote non-fiction, use Pinterest to share tips and information. Infographics are very popular on Pinterest, and you'll find plenty of them in your field of interest that you can repin. I have a board for 'Social Media Infographics'. Hopefully people will find these useful and interesting – and some will discover my 'My Books' board that way too. Even better would be to create your own infographics. You might need to conduct some original research and commission a graphic designer to do this – but you will then benefit from repins and click-throughs to your own website. Because you can also pin videos, pin any video tutorials you create too.
You can pin text too
Although images work best, it is also possible to pin text. Use Share as Image, which lets you highlight text anywhere on the web and turn it into an image.
Follow Publishing Talk on Pinterest at pinterest.com/publishingtalk.
Save