How to build an effective content strategy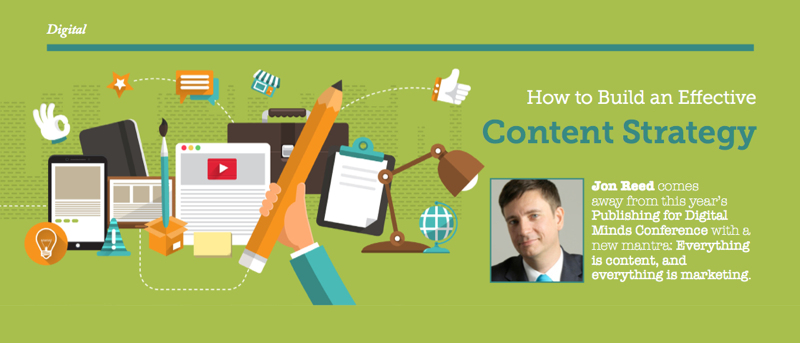 Jon Reed came away from a session on content strategy at the 2015 London Book Fair Digital Minds conference with a new mantra: everything is content and everything is marketing.
This article first appeared in issue 7 of Publishing Talk Magazine.
Reading Time: 7 minutes
For authors and publishers, content is our bread and butter. But content no longer just mean the products we publish – it also means marketing. So how do we build an effective content strategy? This question was addressed at the 2015 London Book Fair Publishing for Digital Minds Conference. The short answer is to focus on value rather than on selling. A longer answer was provided in three presentations in a session called 'What does an Effective Content Strategy Look Like?' chaired by Faber and Faber's Matt Haslum.
Everything is Content and Everything is Marketing
Since they engage two million people with digital content per month, The British Film Institute (BFI) knows a thing or two about audience engagement. Their digital director, Ed Humphrey, described their goal as being to entertain and inspire audiences with film culture. His thesis is that, in order to engage audiences with cultural products or experiences (and yes, that includes books), everything is content and everything is marketing.
The BFI has a lot of free video content on their site, in the form of talks, interviews and trailers (http://www.bfi.org.uk/talks-interviews-trailers). Counterintuitively for many content marketing professionals, these often have no call to action. For example, you can watch a web series of 20-minute interviews, such as Sally Hawkins talking to Edith Bowman on "the films that made me." So far as Humphrey is concerned, 'If at the end of that you do nothing more than watch the series, that's good enough. The payoff can come at a much later date.'
If it's content only to create an outcome, its not really content. With a lot of content marketing, if you take the product away, the content doesn't exist.
According to Humphrey, 'If it's content only to create an outcome, its not really content. With a lot of content marketing, if you take the product away, the content doesn't exist.' The content should stand up in its own right as something that your target audience finds useful and valuable.
This sounds a lot like that contemporary business model of audience-building with a view to later monetization – and the BFI does indeed have large audiences on Twitter (@BFI, with 380,000 followers) and Instagram (@britishfilminstitute, with 21,000 followers) – both social networks that lend themselves to visual content-sharing. Images work well for visual media such as film. For example, on 27th March 2015, @BFI tweeted: "Some films cling for a lifetime. One premiered on this day in 1970: Kes" along with a still image from the film Kes. This got over 300 retweets, and led to a conversation about whether the film should be re-released.
But think about what visual content you can use to promote books too. Images are essential for social media engagement today. In a session on 'Successful Social Media Strategies' for authors in the London Book Fair's AuthorHQ strand later in the week, a member of the audience asked how she could engage her audience on social media. 'Post images!' came the resounding reply from the panel.
Quizzes are also a popular way to engage audiences. While Buzzfeed may release around 12 quizzes per day, when the BFI posts a quiz they have to make sure resonates with their audience as part of a fully-rounded experience. Making your content relevant to your audience is essential. Their 'Are you a Replicant?' quiz (www.bfi.org.uk/are-you-a-replicant) does have an outcome – they want people to see the film, and the quiz ends not only with 'share your results on Twitter / Facebook' buttons, but a link to 'Find a screening of Blade Runner: The Final Cut near you.'
While not every piece of content may have such a direct call to action, there is marketing theory behind all of their content-sharing. Humphrey described how the BFI uses 'personas' in their marking planning, and how they use a lifecycle marketing approach to address their audience's evolving needs over time. They aim to move 'persona groups' somewhere around a four-stage wheel (acquire -> retain -> convert -> share -> acquire etc.) with their content strategy.
Content Value
Sonja Jefferson of Valuable Content asked: 'What is it that makes some content valuable and others fall flat?' and outlined three key principles, with examples:
1. Help, Don't Sell. Even banks can get this one right! HSBC's @expatexplorer Twitter account provides unbelievably helpful content, driven by one simple question: What is it that people who move abroad need to know? Their content includes the Expat Explorer Survey – an annual survey about how you would rate the country you're living in presented as an interactive tool on web, it attracted 200,000 views in the first six months with no advertising.
2. Show, Don't Tell. Hiut Denim (@hiutdenim), with their mantra 'Do One Thing Well', prove they're the best jeans in the world not by telling us, but through sharing customer stories. This is done with zero ad spend, and all through social media stories shared visually using HistoryTag. A unique code in every pair of hand-crafted pair of jeans is used to pull in pictures from Flickr and Instagram to a profile page on historytag.com, enabling the story of a pair of jeans to be told, from the manufacturer who signs their work to the first owner, to any subsequent owners.
3. Talk, Don't Yell. This is a very different way of marketing. Many marketers have been trained that 'he who shouts the loudest will win the customer' – but successful marketing today is about having conversations, not shouting at people. The example offered here was the UK's National Trust transforming its business to make the most of content opportunities. Broadcast doesn't work for them any more, so they're putting the people who have knowledge of the business – such as gardeners – in touch with people like you and me, by training their staff and entrusting them with content-sharing. 'We're talking to real people at the end of the line,' said Jefferson, 'acting like a good citizen will help you get results.'
Content Community
Daniel Houghton of Lonely Planet, the world's largest travel guide publisher, spoke on building a content-led business model. When he started at LP, it was a books business – but it increasingly didn't make sense only to have editors for books – so they now have 'destination editors' – each serving a region of the world, irrespective of product, with content thought through holistically in a multi-platform way. While there is a big focus on digital products, it has not been a complete shift, and the print side of the business is thriving, with new book series and magazines launching. In a shrinking market they're selling more books and engaging more people on more platforms.
Social media and community is incredibly important for their business, and they think of content that can be sliced and diced and used in multiple contexts. As with the BFI, they can be found on platforms where images are key: They are one of the largest travel brands on Twitter (@lonelyplanet) with 2.4m followers; and have 261,000 followers on Instagram (@lonelyplanet). They are also early adopters of new social platforms, such as Meerkat and Periscope. This might sound counterintuitive since so few people use these at the moment – but early adopters can do well if these platforms take off, so don't ignore them – they can be a great opportunity to reach people.
Content Curation
Repurposing and curation were also buzzwords of the day. Curating information has always been important to Lonely Planet – such as picking the '10 best places to eat in London.' But curation is increasingly important to all of us, and the panel suggested that publishers have only just started thinking about how to package their content.
In his opening remarks, Faber's Matt Haslum said: 'relevant, useful, entertaining content that fits into our readers lives will be read and shared,' but that we should think not only of the types of content that might be relevant to our business in terms of text, images or infographics, but whether this material is original or curated. 'We don't always have to create original content,' he said, 'readers want to know what we read or watch, not just what we create. And using content in new ways can create new revenue for authors.'
Humphrey said the BFI has hardly any IP – but it has the confidence to lead a conversation around film. Houghton pointed out that Airbnb doesn't own any hotel rooms and it's a great business!
Upworthy (www.upworthy.com) may be the fastest growing news site of all time – yet it doesn't write news: it writes headlines. Their staff will re-write headlines 30 or 40 times until they start to drive traffic. 'There's an interesting truth in that idea,' said Humphrey, 'it's not necessarily about creating new stuff – it can be about reinterpreting stuff we already have.' While publishing may be fixated on the idea that we have to do it once and get it perfect, we can also republish. 'New is good but great is great,' said Humphrey, 'we give new reasons to watch old films.' And the BFI also makes frequent use of #ICYMI ('in case you missed it') – a popular web trope for retweeting.
Whether content is original or curated, text or image, free or paid for, product or marketing, quality and trust still matter most – and this is where publishers have an important role. 'Stick to your editorial principles,' says Houghton, 'the most important thing we have is that people trust our brand.'
How to build an effective content strategy
Be generous – give content away generously; you don't always need a 'call to action' or a hard sell. Focus on conversations rather than marketing messages, and 'talk, don't yell'
Offer value – make your free content valuable, something useful on its own merits. Think 'help, don't sell', and create a great user experience.
Build community around your content using social media, and encourage your community tell your brand story – 'show, don't tell'
Post images – content isn't just about text, and the highest click-through rates from social networks come from images and videos rather than status updates and links.
Curate and repurpose – think about curating, repurposing and sharing content, as well as simply owning it or creating it.
Save